01.01.2014 | Review Article | Ausgabe 1/2014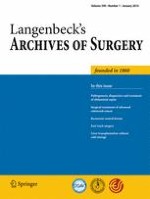 Immunopathogenesis of abdominal sepsis
Zeitschrift:
Autoren:

Georg F. Weber, Filip K. Swirski
Abstract
Background
Sepsis is an unsolved problem worldwide, with a 30–50 % mortality rate. The recent failures of anti-TLR4, recombinant activated protein C, and anti-TNF in clinical trials indicate a need to rethink our current understanding of sepsis's pathophysiology. While the initial immune response is crucial for effective clearance of invading pathogens, an overly exuberant host response to infection can cause septic shock, tissue damage, and death. Profuse inflammation in sepsis is frequently followed by global immunosuppression that increases susceptibility to viral and bacterial infections. Despite the dangers of immune over-response, the immune system's anti-inflammatory activities are likely necessary to reduce the initial over-activation of the immune system.
Purpose
With this review, we want to illuminate the different aspects of immune response to sepsis and provide insight to the ongoing difficulties currently present within sepsis research.
Conclusion
Future treatment strategies for sepsis should focus on maintaining balance between pro- and anti-inflammatory immune actions in a timely manner.