01.12.2018 | Research article | Ausgabe 1/2018 Open Access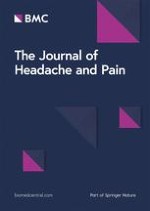 Impact of migraine on the clinical presentation of insomnia: a population-based study
Zeitschrift:
Autoren:

Jiyoung Kim, Soo-Jin Cho, Won-Joo Kim, Kwang Ik Yang, Chang-Ho Yun, Min Kyung Chu
Abbreviations
DIS
Difficulty Initiating Sleep
DMS
Difficulty Maintaining Sleep
DSM
Diagnostic and Statistical Manual of Mental Disorders
ICHD
International Classification of Headache Disorders
ICSD
International Classification of Sleep Disorders
KHSS
Korean Headache-Sleep Study
Background
Methods
Study population and survey process
The data of the Korean Headache-Sleep Study (KHSS) were used in the present study. The KHSS was a nation-wide, cross-sectional survey regarding headache and sleep disorder among Korean adults aged 19 to 69 years. It also included items regarding symptoms of anxiety and depression. The study design, methods, and process were described in detail previously [
6
]. In brief, the KHSS adopted a two-stage clustered random sampling method for all Korean territories except Jeju-do. This method sampled participants proportionally to the population distribution and socioeconomic status. Trained interviewers conducted the survey by face-to-face interviews using a questionnaire. All trained interviewers were employees of Gallup Korea and had previous experience in social surveys. Data collection of the KHSS was performed from November 2011 to January 2012. The KHSS was approved by the Institutional Review Board and Ethics Committee of Hallym University Sacred Heart Hospital (IRB No. 2011-I077). Written informed consent was obtained from all participants.
Migraine assessment
Diagnosis of migraine was based on criteria A to D for migraine without aura in the third edition beta version of the International Classification of Headache Disorders (ICHD-3 beta; code 1.1: A, 5 or more attacks in a lifetime; B, attack duration of 4–72 h; C, any 2 of the 4 typical headache characteristics [i.e., unilateral pain, pulsating quality, moderate-to-severe pain intensity, and aggravation by routine physical activity]; and D, attacks associated with at least one of the following: nausea, vomiting, or both photophobia and phonophobia) [
16
]. We did not distinguish between migraine without aura (code 1.1) and migraine with aura (code 1.2). Therefore, migraine included both migraine with aura and migraine without aura. Our survey method has been reported to have a sensitivity of 75.0% and a specificity of 88.2% [
17
].
Non-migraine headache assessment
Participants that experienced more than one minute of headache in the last twelve months but did not satisfy the criteria for migraine diagnosis were classified as a distinct non-migraine headache group.
Insomnia assessment
Insomnia was evaluated by using the Insomnia Severity Index (ISI), which is a self-report questionnaire with the following seven items: difficulties in sleep onset, difficulties in sleep maintenance, early awakening in the morning, sleep dissatisfaction, interference of sleep problems with daily functioning, noticeability of sleep problems to others, and worries caused by the sleep problems. This index measures the individual's perceptions of their sleep problem by evaluating the severity of the insomnia problems within the last two weeks. The total ISI score ranges from 0 to 28 [
18
]. Participants with a total ISI score of 10 or more were classified in our study as suffering from insomnia according to a previous epidemiological study [
19
]. Additionally, we investigated whether the sleep was usually non-refreshing. We asked participants to choose from the categories none, mild, moderate, severe, and very severe and graded each response as 0, 1, 2, 3, and 4, respectively.
Statistical analyses
The Kolmogorov-Smirnov test was used to evaluate the normality of the distribution. After normality was confirmed, Student's t-test or analysis of variance was used to compare continuous variables. If normality was not confirmed, the Mann-Whitney
U
test was used to compare differences between two independent groups. For comparison of ordinal variables among more than three groups, we used Kruskal-Wallis test. To adjust for multiple testing,
p-values
were calculated using the Bonferroni post hoc test. Categorical variables were compared using the chi-square test. The significance level was set at
p
 < 0.05 for all analyses. Statistical analyses were performed using the Statistical Package for Social Sciences 22.0 (SPSS 22.0; IBM, Armonk, NY, USA).
Results
Discussion
The key findings of the present study were as follows: 1) The prevalence of migraine and non-migraine headache was significantly higher among participants with insomnia compared to those without insomnia; 2) Among participants with insomnia, the total ISI score was not significantly different among migraine, non-migraine headache, and non-headache groups and 3) Among participants with migraine, the prevalence of insomnia was higher than participants with non-migraine headache and non-headache. Migraine symptoms exacerbated with the presence of insomnia.
Conclusions
Subjects with insomnia have an increased prevalence of migraine and vice versa in a population-based setting. Although insomnia is associated with increased headache frequency and severity among migraineurs, insomnia severity is, apart from some subcomponents, not significantly influenced by the presence of migraine. Our findings indicate that migraine and insomnia affect each other but their asymmetric causal relationship needs further investigation in future studies.
Acknowledgements
The authors would like to thank Gallup Korea for providing technical support for the Korean Headache-Sleep Study.
Funding
This study was supported by a 2011 grant from the Korean Academy of Medical Sciences.
Availability of data and materials
Data and materials for this study are available by request.
Ethics approval and consent to participate
The study was approved by Institutional Review Board and Ethics Committee of Hallym University Sacred Heart Hospital (IRB No. 2011-I077) and conducted according to the Declaration of Helsinki. Written informed consent was obtained from all participants.
Competing interests
Jiyoung Kim has no potential conflicts of interest.
Soo-Jin Cho was a site investigator of multicenter trial sponsored by Otsuka Korea, Eli Lilly and Company, Korea BMS, and Parexel Korea Co., Ltd.. Soo-Jin Cho also worked as an advisory member for Teva. Soo-Jin Cho received research support from Hallym University Research Fund 2016 and Academic award of Myung In Pharm. Co. Ltd. Soo-Jin Cho also received lecture honoraria from Yuyu Pharmaceutical Company and Allergan Korea.
Won-Joo Kim has no potential conflicts of interest.
Kwang Ik Yang has no potential conflicts of interest.
Chang-Ho Yun has no potential conflicts of interest.
Min Kyung Chu was a site investigator for a multi-center trial sponsored by Otsuka Korea, Novartis International AG and Eli Lilly and Company. Min Kyung Chu worked an advisory member for Teva, and received lecture honoraria from Allergan Korea and Yuyu Pharmaceutical Company in the past 24 months.
Publisher's Note
Springer Nature remains neutral with regard to jurisdictional claims in published maps and institutional affiliations.
Open Access
This article is distributed under the terms of the Creative Commons Attribution 4.0 International License (
http://​creativecommons.​org/​licenses/​by/​4.​0/​
), which permits unrestricted use, distribution, and reproduction in any medium, provided you give appropriate credit to the original author(s) and the source, provide a link to the Creative Commons license, and indicate if changes were made.