01.12.2017 | Patient Safety in Anesthesia (A Barbeito, Section Editor) | Ausgabe 4/2017 Open Access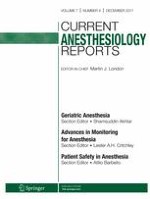 Improvement Science in Anaesthesia
Zeitschrift:
Autoren:

Duncan T. Wagstaff, James Bedford, S. Ramani Moonesinghe
Wichtige Hinweise
This article is part of the Topical Collection on
Patient Safety in Anaesthesia
Introduction
Improvement Science is an emerging concept which can be considered the scientific underpinning of quality improvement (QI) exploring how it can be best be undertaken [
1
•]. It uses rigorous scientific methods to understand and evaluate the QI process. The overriding goal of Improvement Science is to ensure that QI efforts are based as much on evidence as the best practices they seek to implement [
2
].
Anaesthesia is a rich environment for applying the methods of Improvement Science. Anaesthetists are characteristically numerate, accustomed to viewing data as time series and can understand the applications (and limitations) of representing complex systems with quantitative indicators. Increasingly, perioperative process and outcome measures are collected by large-scale programmes and fed back to hospitals with the hope of reducing variation in quality and driving system-wide improvement. Understanding the best ways of collecting, analysing, visualising, feeding back and supporting the use of this type of data is an important application of Improvement Science.
This review describes the historical development of Improvement Science as a discipline and how it is being used in Anaesthesia. It then focusses in detail on what contributions it can make to large-scale programmes aiming to improve quality by collecting and feeding back data.
What Are the Features of Improvement Science?
A genuine partnership between clinicians and academics is required to achieve Improvement Science's ambition of creating practical learning that can make a timely difference to patient care. Clinicians can bring contextual and subject knowledge, whereas academics can contribute scepticism and methodological rigour. Positioning Improvement Science between research and audit, the Health Foundation suggests that 'Improvement Science describes how to reduce the gap between what is actual (i.e. audit) and what is possible (i.e. research)'.
Measurement for Improvement
A recurring theme of Improvement Science is the concept for measuring for improvement, which we discuss further here.
Conclusions
Improvement Science is a developing field primarily concerned with maximising and sharing learning from QI projects. It aims to use stringent scientific method to support and analyse quality improvement initiatives. Large-scale perioperative data measurement and feedback systems are being introduced in both the USA and UK and represent opportunities for anaesthetists to work with multidisciplinary colleagues to help improve services and outcomes for surgical patients. Experience tells us that making the most of these opportunities is difficult; evaluating which approaches work, and in which contexts, seems an ever more urgent priority for healthcare commissioners, providers and patients.
Acknowledgements
SRM has the following roles of relevance to this manuscript: National Lead, Perioperative Quality Improvement Programme; National Project Team member, National Emergency Laparotomy Audit.
Funding
SRM receives funding for the following roles related to research and improvement—Associate National Clinical Director for elective care, NHS England; Director NIAA Health Services Research Centre, Royal College of Anaesthetists; National Institute for Health Research (NIHR) Local Clinical Research Network lead. She receives grant funding from the following organisations: The Health Foundation (Improvement Science Fellowship); NIHR Biomedical Research Centre funding scheme (UCLH); National Institute for Academic Anaesthesia.
Compliance with Ethical Standards
Conflict of Interest
Duncan T. Wagstaff, James Bedford, and S. Ramani Moonesinghe declare that they have no conflict of interest.
Human and Animal Rights and Informed Consent
This article does not contain any studies with human or animal subjects performed by any of the authors.
Open Access
This article is distributed under the terms of the Creative Commons Attribution 4.0 International License (http://creativecommons.org/licenses/by/4.0/), which permits unrestricted use, distribution, and reproduction in any medium, provided you give appropriate credit to the original author(s) and the source, provide a link to the Creative Commons license, and indicate if changes were made.