09.11.2017 | Original Article | Ausgabe 2/2018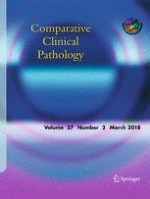 In vitro analysis of antispasmodic activity of ethanolic stem extracts of
Uvaria rufa

Blume and

Anomianthus dulcis

(Dunal) J. Sinclair on excised rat's ileum
Zeitschrift:
Autoren:

Chattida Wiya, Kanokporn Saenphet, Supap Saenphet, Wararut Buncharoen
Abstract
Irritable bowel syndrome (IBS) is a symptom of functional gastrointestinal disorders. It is commonly experienced as abdominal cramp, diarrhea, and constipation. The diagnosis and treatment of IBS were mostly conducted by synthetic medicines including antispasmodic drugs that have many side effects and are so expensive. The aim of the present study was to explore the antispasmodic activity of
Uvaria rufa
Blume and
Anomianthus dulcis
(Dunal) J. Sinclair extracts on isolated rats' ilia which later compared to atropine as reference drug. The ethanolic extracts from the stem of
A. dulcis
and
U. rufa
were investigated for their antispasmodic activities against acetylcholine-induced rats' ilia contraction in vitro experiment. The results of this study showed that both ethanolic extracts of
U. rufa
and
A. dulcis
have an antispasmodic efficiency at all concentrations of 200, 300, 400, and 500 μg/ml on excised rats' ilia. They produced the highest relaxation of 92.71 ± 5.97 and 98.53 ± 0.61% in
A. dulcis
and
U. rufa
extracts, respectively, while atropine produced 112.84 ± 5.61% at concentration of 10.0 μg/ml. These results suggest that
U. rufa
and
A. dulcis
could be used as antispasmodic agents for IBS treatment.