01.12.2012 | Research | Ausgabe 1/2012 Open Access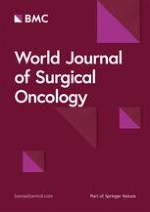 In vitro and in vivo double-enhanced suicide gene therapy mediated by generation 5 polyamidoamine dendrimers for PC-3 cell line
Zeitschrift:
Autoren:

Yue Chen, Gang Wang, Deling Kong, Zhihong Zhang, Kuo Yang, Ranlu Liu, Weiming Zhao, Yong Xu
Wichtige Hinweise
Electronic supplementary material
The online version of this article (doi:
10.​1186/​1477-7819-10-3
) contains supplementary material, which is available to authorized users.
Yue Chen, Gang Wang contributed equally to this work.
Competing interests
The authors declare that they have no competing interests.
Authors' contributions
YC carried out the experiments, analyzed the data and drafted the manuscript. GW conducted the experiments and participated in the design of the study. DK, ZZ, KY and RL assisted with experiments and help to draft the manuscript. WZ conceived of the study, and participated in its design. YX conceived of the study, participated in its design and revised the manuscript. All authors read and approved the final manuscript.
Abstract
Background
One of the most frequently used and efficient suicide gene therapies for prostate cancer is HSV-TK/GCV system, but its application has been limited due to lack of favorable gene vector and the reduction of "bystander effect". We investigated the effect of a novel combination of HSV-TK/GCV fused with Cx43 and gemcitabine using non-viral vector generation 5 polyamidoamine dendrimers (G5-PAMAM-D) on PC-3 cells.
Methods
RT-PCR and Western blot were used to detect TK and Cx43 expression. Cell viability and proliferation were measured by using MTT assay. Cell apoptosis was detected with double-staining of Annexin V-FITC and propidium iodide (PI) by flow cytometry. Nude mice models were established to evaluate the therapeutic effect in vivo.
Results
G5-PAMAM-D efficiently delivered recombinant plasmids into PC-3 cells and HSV-TK and Cx43 could be expressed successfully. With gemcitabine, G5-PAMAM-D mediated HSV-TK and Cx43 expression effectively inhibited prostate cancer PC-3 cell proliferation, leading to more cellular apoptosis and inhibiting PC-3 tumor growth in nude mice models.
Conclusions
This study illustrates that this new suicide gene system mediated by G5-PAMAM-D is effective in decreasing PC-3 cell proliferation and inducing cell apoptosis, and inhibiting tumor growth in vivo. In a word, our study could provide a potential approach for gene therapy of prostate cancer.