01.12.2018 | Research | Ausgabe 1/2018 Open Access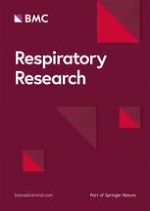 Inhibition of histone-deacetylase activity rescues inflammatory cystic fibrosis lung disease by modulating innate and adaptive immune responses
Zeitschrift:
Autoren:

Manish Bodas, Steven Mazur, Taehong Min, Neeraj Vij
Wichtige Hinweise
Electronic supplementary material
Abstract
Background
Chronic lung disease resulting from dysfunctional cystic fibrosis transmembrane conductance regulator (CFTR) and NFκB-mediated neutrophilic-inflammation forms the basis of CF-related mortality. Here we aimed to evaluate if HDAC inhibition controls
Pseudomonas-aeruginosa-
lipopolysaccharide (
Pa
-LPS) induced airway inflammation and CF-lung disease.
Methods
For in vitro experiments, HEK293-cells were transfected with IL-8 or NFκB-firefly luciferase, and SV40-renilla- luciferase reporter constructs or ΔF508-CFTR-pCEP, followed by treatment with suberoylanilide hydroxamic acid (SAHA), Trichostatin-A (TSA) and/or TNFα. For murine studies,
Cftr
+/+
or
Cftr
−/−
mice (
n
 = 3) were injected/instilled with
Pa
-LPS and/or treated with SAHA or vehicle control. The progression of lung disease was monitored by quantifying changes in inflammatory markers (NFκB), cytokines (IL-6/IL-10), neutrophil activity (MPO, myeloperoxidase and/or NIMP-R14) and T-reg numbers.
Results
SAHA treatment significantly (
p
 < 0.05) suppresses TNFα-induced NFκB and IL-8 reporter activities in HEK293-cells. Moreover, SAHA, Tubacin (selective HDAC6-inhibitor) or HDAC6-shRNAs controls CSE-induced ER-stress activities (
p
 < 0.05). In addition, SAHA restores trafficking of misfolded-ΔF508-CFTR, by inducing protein levels of both B and C forms of CFTR. Murine studies using
Cftr
+/+
or
Cftr
−/−
mice verified that SAHA controls
Pa
-LPS induced IL-6 levels, and neutrophil (MPO levels and/or NIMP-R14), NFκB-(inflammation) and Nrf2 (oxidative-stress marker) activities, while promoting FoxP3
+
T-reg activity.
Conclusion
In summary, SAHA-mediated HDAC inhibition modulates innate and adaptive immune responses involved in pathogenesis and progression of inflammatory CF-lung disease.