03.07.2020 | Original Contributions | Ausgabe 11/2020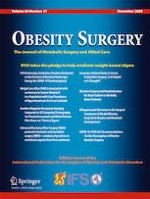 Insurance-Related Delay in Access to Bariatric Surgery, Is It Helpful as Is Thought?
Zeitschrift:
Autoren:

Emiliano Domeniconi, Carlos Martin Esquivel, Manuel Garcia, Matias Sosa, Pablo Arias, Fernando Martínez Lascano, José María Foscarini
Wichtige Hinweise
Publisher's Note
Springer Nature remains neutral with regard to jurisdictional claims in published maps and institutional affiliations.
Abstract
Background
In Argentina, health insurances demand a 24-month duration preoperative weight loss program (POWLP) before bariatric surgery. It is unknown whether it enhances weight loss before or after surgery, or even if it is related to comorbidity remission. The main objective of this study was to determine its effectiveness and reliability.
Methods
An observational, longitudinal, retrospective study was carried out from June 2009 to December 2016, enrolling patients who underwent bariatric surgery in Sanatorio Allende Hospital of Cordoba, Argentina. Patients were divided into three groups according time-to-surgery from preoperative assessment initiation (A = before the 6th month, B = from 6th to 24th month, and C = over 24th month; all related to the first visit as previously mentioned). BMI, %EWL, comorbidity remission BMI, %EWL, comorbidity remission, and complications rate were assessed after surgery at 1, 3, 6, 12 months, and then annually until the 5th postoperative year. Revisional surgeries were excluded.
Results
Three hundred seventy-six patients were recruited. There were no significant differences in the preoperative and postoperative weight loss, neither co-morbidities resolution between groups.
Conclusions
Insurance-related delay in access to bariatric surgery is not associated to any benefit in comorbidity remission, as well as any improvement in weight loss in all groups studied.