01.12.2014 | Ausgabe 4/2014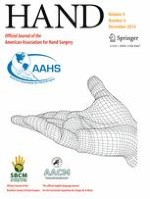 Integra® dermal regenerative template application on exposed tendon
Zeitschrift:
Autoren:

John Hulsen, Ryan Diederich, Michael W. Neumeister, Reuben A. Bueno Jr.
Wichtige Hinweise
This study was presented at the ASPS Senior Residents Conference, January 2011, Nashville, TN, and Midwestern Association of Plastic Surgeons Annual Meeting, May 2011, Chicago, IL.
Abstract
Background
Tendon without paratenon presents the reconstructive surgeon with a tissue coverage challenge. Integra® dermal regenerative template has been shown to initiate a stable, vascularized bed for skin grafting over tendon. However, histological processes that occur during incorporation have not been described. The purpose of this study is to characterize the pattern of changes that occur when Integra® is applied to an avascular tendon. We hypothesize that vascular incorporation will originate from the wound periphery and proceed toward the tendon center.
Methods
A full-thickness defect was created over a denuded Achilles tendon in a single hind limb in eight New Zealand white rabbits. Integra was placed over the avascular tendon, and the limb was dressed and splinted. Two animals were euthanized at each timepoint (weeks 1, 2, 3, and 4), and hematoxylin and eosin (H&E)-stained tissue specimens were microscopically evaluated.
Results
Week 1 specimens demonstrated limited adherence between Integra and the tendon, while myofibroblasts were found encircling the tendon. No cellularity was noted centrally. At week 2, the dermis–Integra junction had increasing vascularity and the central portion developed increasing cellularity. By week 3, Integra was completely revascularized. At week 4, Integra had the histological appearance of normal dermis.
Conclusion
Neovascularization of Integra® over exposed tendon occurs from the peripheral tissue. Ingrowth proceeds from the dermis–Integra interface toward the center of the graft. Four weeks after application to the denuded tendon, Integra has the histological appearance of native dermis.