01.12.2017 | Research | Ausgabe 1/2017 Open Access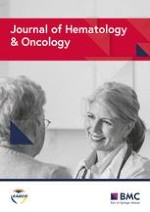 Integrated analysis identifies microRNA-195 as a suppressor of Hippo-YAP pathway in colorectal cancer
Zeitschrift:
Autoren:

Min Sun, Haibin Song, Shuyi Wang, Chunxiao Zhang, Liang Zheng, Fangfang Chen, Dongdong Shi, Yuanyuan Chen, Chaogang Yang, Zhenxian Xiang, Qing Liu, Chen Wei, Bin Xiong
Wichtige Hinweise
Electronic supplementary material
The online version of this article (doi:
10.​1186/​s13045-017-0445-8
) contains supplementary material, which is available to authorized users.
Abstract
Background
With persistent inconsistencies in colorectal cancer (CRC) miRNAs expression data, it is crucial to shift toward inclusion of a "pre-laboratory" integrated analysis to expedite effective precision medicine and translational research. Aberrant expression of hsa-miRNA-195 (miR-195) which is distinguished as a clinically noteworthy miRNA has previously been observed in multiple cancers, yet its role in CRC remains unclear.
Methods
In this study, we performed an integrated analysis of seven CRC miRNAs expression datasets. The expression of miR-195 was validated in The Cancer Genome Atlas (TCGA) datasets, and an independent validation sample cohort. Colon cancer cells were transfected with miR-195 mimic and inhibitor, after which cell proliferation, colony formation, migration, invasion, and dual luciferase reporter were assayed. Xenograft mouse models were used to determine the role of miR-195 in CRC tumorigenicity in vivo.
Results
Four downregulated miRNAs (hsa-let-7a, hsa-miR-125b, hsa-miR-145, and hsa-miR-195) were demonstrated to be potentially useful diagnostic markers in the clinical setting. CRC patients with a decreased level of miR-195-5p in tumor tissues had significantly shortened survival as revealed by the TCGA colon adenocarcinoma (COAD) dataset and our CRC cohort. Overexpression of miR-195-5p in DLD1 and HCT116 cells repressed cell growth, colony formation, invasion, and migration. Inhibition of miR-195-5p function contributed to aberrant cell proliferation, migration, invasion, and epithelial mesenchymal transition (EMT). We identified miR-195-5p binding sites within the 3'-untranslated region (3′-UTR) of the human yes-associated protein (YAP) mRNA. YAP1 expression was downregulated after miR-195-5p treatment by qRT-PCR analysis and western blot.
Conclusions
Four downregulated miRNAs were shown to be prime candidates for a panel of biomarkers with sufficient diagnostic accuracy for CRC in a clinical setting. Our integrated microRNA profiling approach identified miR-195-5p independently associated with prognosis in CRC. Our results demonstrated that miR-195-5p was a potent suppressor of YAP1, and miR-195-5p-mediated downregulation of YAP1 significantly reduced tumor development in a mouse CRC xenograft model. In the clinic, miR-195-5p can serve as a prognostic marker to predict the outcome of the CRC patients.