01.12.2012 | Research | Ausgabe 1/2012 Open Access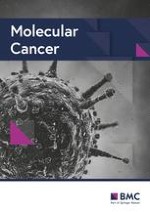 Integrin αvβ3 and CD44 pathways in metastatic prostate cancer cells support osteoclastogenesis via a Runx2/Smad 5/receptor activator of NF-κB ligand signaling axis
Zeitschrift:
Autoren:

Aditi Gupta, Wei Cao, Meenakshi A Chellaiah
Wichtige Hinweise
Electronic supplementary material
The online version of this article (doi:
10.​1186/​1476-4598-11-66
) contains supplementary material, which is available to authorized users.
Competing interests
The authors declare that they have no competing interests.
Authors' contributions
AG carried out major experiments including Western blotting with human normal and tumor tissue lysates, immunohistochemistry on TMA, analyses with conditioned medium (Western blotting and osteoclast differentiation), studies with inhibitors (αv and PKC) and SiRNA (Smad 5). AG also participated in the MS preparation, statistical analysis of the data, discussion and interpretation of results. WC generated CD44 knockdown stable PC3 cell lines. MAC conceived the study, confocal microscopy analysis of immunostained PC3 cells, RUNX2 knockdown experiments and manuscript preparation. All authors read and approved the final manuscript.
Abstract
Background
Bone loss and pathological fractures are common skeletal complications associated with androgen deprivation therapy and bone metastases in prostate cancer patients. We have previously demonstrated that prostate cancer cells secrete receptor activator of NF-kB ligand (RANKL), a protein essential for osteoclast differentiation and activation. However, the mechanism(s) by which RANKL is produced remains to be determined. The objective of this study is to gain insight into the molecular mechanisms controlling RANKL expression in metastatic prostate cancer cells.
Results
We show here that phosphorylation of Smad 5 by integrin αvβ3 and RUNX2 by CD44 signaling, respectively, regulates RANKL expression in human-derived PC3 prostate cancer cells isolated from bone metastasis. We found that RUNX2 intranuclear targeting is mediated by phosphorylation of Smad 5. Indeed, Smad5 knock-down via RNA interference and inhibition of Smad 5 phosphorylation by an αv inhibitor reduced RUNX2 nuclear localization and RANKL expression. Similarly, knockdown of CD44 or RUNX2 attenuated the expression of RANKL. As a result, conditioned media from these cells failed to support osteoclast differentiation in vitro. Immunohistochemistry analysis of tissue microarray sections containing primary prostatic tumor (grade2-4) detected predominant localization of RUNX2 and phosphorylated Smad 5 in the nuclei. Immunoblotting analyses of nuclear lysates from prostate tumor tissue corroborate these observations.
Conclusions
Collectively, we show that CD44 signaling regulates phosphorylation of RUNX2. Localization of RUNX2 in the nucleus requires phosphorylation of Smad-5 by integrin αvβ3 signaling. Our results suggest possible integration of two different pathways in the expression of RANKL. These observations imply a novel mechanistic insight into the role of these proteins in bone loss associated with bone metastases in patients with prostate cancer.