01.12.2015 | Research article | Ausgabe 1/2015 Open Access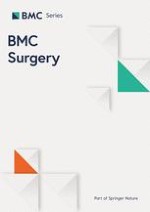 Long-term effects of laparoscopic sleeve gastrectomy versus roux-en-Y gastric bypass for the treatment of Chinese type 2 diabetes mellitus patients with body mass index 28-35 kg/m2
Zeitschrift:
Autoren:

Jingge Yang, Cunchuan Wang, Guo Cao, Wah Yang, Shuqing Yu, Hening Zhai, Yunlong Pan
Wichtige Hinweise
Competing interests
The authors declare that they have no competing interests.
Authors' contributions
YJJ and WCC designed the study. WCC, YJJ, CG and YW performed the surgeries and conducted the study. YSQ and ZHN collected the data and performed the statistical analysis. PYL helped to draft the manuscript. All authors approved the final manuscript.
Abstract
Background
To compare long term effects of two bariatric procedures for Chinese type 2 diabetes mellitus (T2DM) patients with a body mass index (BMI) of 28-35 kg/m2.
Methods
Sixty four T2DM patients with Glycated hemoglobin A1c (HbA1c) ≧ 7.0 % were randomly assigned to receive laparoscopic sleeve gastrectomy (SG) or Roux-en-Y gastric bypass (RYGB) procedure. Weight, percentage of excess weight loss (%EWL), BMI, waist circumference, HbA1c, fasting blood glucose (FBG), and C-peptide were measured. Serum lipid levels were also measured during three-year postoperative follow-up visits.
Results
Fifty five patients completed the 36-month follow-up. Both groups had similar baseline anthropometric and biochemical measures. At the end point, 22 patients (78.6 %) in SG group and 23 patients (85.2 %) in RYGB group achieved complete remission of diabetes mellitus with HbA1c < 6.0 % (
P
 = 0.525) and without taking diabetic medications, and 25 patients in each group (89.3 % vs. 92.6 %) gained successful treatment of diabetes with HbA1c≦6.5 % (
P
 = 0.100). Change in HbA1c, FBG and C peptide were comparable in the two groups. The RYGB group had significantly greater weight loss than the SG group [percentage of total weight loss (%TWL) of 31.0 % vs. 27.1 % (
P
 = 0.049), %EWL of 92.3 % vs. 81.9 % (
P
 = 0.003), and change in BMI of 11.0 vs. 9.1 kg/m
2
(
P
 = 0.017), respectively]. Serum lipids in each group were also greatly improved.
Conclusion
In this three-year study, SG had similar positive effects on diabetes and dyslipidemia compared to RYGB in Chinese T2DM patients with BMI of 28-35 kg/m2. Longer term follow-ups and larger sample studies are needed to confirm these outcomes, however.