01.09.2009 | Clinical Article | Ausgabe 9/2009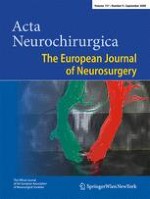 Management of brachial plexus region tumours and tumour-like conditions: relevant diagnostic and surgical features in a consecutive series of eighteen patients
Zeitschrift:
Autoren:

M. G. Siqueira, R. S. Martins, M. J. Teixeira
Wichtige Hinweise
Comment
This is a clearly presented review of the experience of an experienced peripheral nerve surgeon in brachial plexus tumours. The results of management are excellent. The proportion of desmoid tumours and fibrosarcomata is relatively high and the distinction between these entities seems difficult for most pathologists. Recurrence rates for desmoid tumours in previous reported series range between 14% and 64% and the indications for adjunctive radiotherapy are controversial. Sharing of experience in the challenging management of these uncommon tumours is very welcome.
Peter Richardson
United Kingdom
Summary
Background
Tumours of the brachial plexus region are rare and most publications are case reports or studies with a small series of patients. The aim of this study is to present our experience in managing these lesions.
Methods
We review 18 patients with tumours in the brachial plexus region submitted to surgical treatment in a 6 year period, including their clinical presentation, neuro-imaging data, surgical findings and outcome.
Findings
The tumours comprised a heterogeneous group of lesions, including schwannomas, neurofibromas, malignant peripheral nerve sheath tumour (MPNST), sarcomas, metastases, desmoids and an aneurysmal bone cyst. The most common presentation was an expanding lump (83.33%). Eleven tumours were benign and 7 were malignant. Neurofibromatosis was present in only 2 patients (11.11%). Gross total resection was achieved in 14 patients and sub-total resection in the others. Only 3 patients presented with new post-operative motor deficits. The incidence of complications was low (16.5 %).
Conclusions
The majority of tumours were benign and most of them could be excised with a low incidence of additional deficits. Some of the malignant tumours could be controlled by surgery plus adjuvant therapy, but this category is still associated with high morbidity and mortality rates.