01.03.2014 | Original Article | Ausgabe 1/2014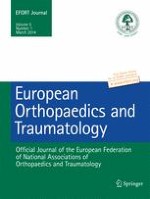 Management of high-energy tibial plateau fractures by Ilizarov external fixator
Zeitschrift:
Autoren:

Kamal El-Gafary, Wael El-adly, Osama Farouk, Mohamed Khaled, Marwa Mahmoud Abdelaziz
Abstract
Background
Despite the evolution of surgical techniques and implants, high energy tibial plateau fractures remain a challenging problem. The goals of treatment are to obtain a well-aligned stable joint with a painless functional range of motion and prevention of posttraumatic arthritis. Indirect reduction techniques and other soft tissue preservation methods safeguard the vascularity and emphasize restoring both joint congruity and the mechanical axis of the limb. The aim of this study was to evaluate the clinical outcome of using Ilizarov external fixator in the treatment of Schatzker type V–VI tibial plateau fracture.
Methods
This study was done during the period 2009–2011 for the treatment of 30 patients with high energy tibial plateau fractures (Schatzker type V in 17 and type VI in 13 patients) by Ilizarov external fixator. The mean age was 36 years .There were 23 males. The right limb was affected in 17 patients. There were 10 open fractures and other associated injuries in 9 patients.
Results
The mean of follow up period was 18 months. All the fractures were united in an average time of 15 weeks. There were pin track infection in 20 patients and other few complications in 8 patients. According to knee society score, there was an excellent result in 16.7 %, good in 60 %, fair in 20 %, and poor in 3.3 %.
Conclusion
Ilizarov external fixation is a safe and effective treatment option for high energy tibial plateau fractures with good functional results.