01.06.2014 | Interventional Neuroradiology | Ausgabe 6/2014 Open Access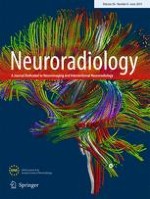 Mechanical thrombectomy in acute ischemic stroke—experience from 6 years of practice
Zeitschrift:
Autoren:

Åsa Kuntze Söderqvist, Magnus Kaijser, Michael Söderman, Staffan Holmin, Nils Wahlgren, Tommy Andersson
Abstract
Introduction
We present our results from the first 6 years with mechanical thrombectomy in the treatment of ischemic stroke.
Methods
Every patient treated with mechanical thrombectomy for acute ischemic stroke from September 2005 to December 2011 was consecutively included in this retrospective analysis. Baseline and outcome data were retrieved from computerized records at the hospital. National Institute of Health Stroke Scale (NIHSS) score and the modified Rankin Scale (mRS) score were used as outcome parameters. Favorable outcome was defined as a mRS score of 0–2, corresponding to independence in activities of daily living. We also evaluated revascularization and severe adverse events, with focus on symptomatic intracranial hemorrhage.
Results
Good functional outcome (mRS 0–2) was achieved in 50 % (120/240) of all patients. For patients with no neurological deficit prior to stroke onset (i.e., mRS = 0 before stroke), the proportion with good functional outcome was 54 %. Symptomatic hemorrhages occurred in 4.6 % of the cases (5.7 % in the anterior circulation).
Conclusion
In summary, our results supports that mechanical thrombectomy is a safe and effective method to restore blood flow in selected patients suffering from an acute ischemic stroke.