01.12.2015 | Research article | Ausgabe 1/2015 Open Access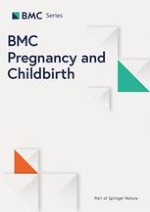 Medication use during pregnancy, gestational age and date of delivery: agreement between maternal self-reports and health database information in a cohort
Zeitschrift:
Autoren:

Federica Edith Pisa, Anica Casetta, Elena Clagnan, Elisa Michelesio, Liza Vecchi Brumatti, Fabio Barbone
Wichtige Hinweise
Electronic supplementary material
The online version of this article (doi:
10.​1186/​s12884-015-0745-3
) contains supplementary material, which is available to authorized users.
Competing interests
The authors declare that they have no competing interests.
Authors' contribution
FEP: conception of research project, study design, study organization and execution, coordination and supervision of statistical analysis, 'statistical analysis' manuscript writing, review and critique; AC: data management, statistical analysis; EC and EM: data management and critical review of the manuscript; EVB: study design, critical review of the manuscript; FB: study design, critical review of the manuscript. All authors read and approved the final manuscript.
Abstract
Background
Health databases are a promising resource for epidemiological studies on medications safety during pregnancy. The reliability of information on medications exposure and pregnancy timing is a key methodological issue. This study (a) compared maternal self-reports and database information on medication use, gestational age, date of delivery; (b) quantified the degree of agreement between sources; (c) assessed predictors of agreement.
Methods
Pregnant women recruited in a prenatal clinic in Friuli Venezia Giulia (FVG) region, Italy, from 2007 to 2009, completed a questionnaire inquiring on medication use during pregnancy, gestational age and date of delivery. Redeemed prescriptions and birth certificate records were extracted from regional databases through record linkage. Percent agreement, Kappa coefficient, prevalence and bias-adjusted Kappa (PABAK) were calculated. Odds Ratio (OR), with 95 % confidence interval (95 % CI), of ≥1 agreement was calculated through unconditional logistic regression.
Results
The cohort included 767 women, 39.8 % reported medication use, and 70.5 % were dispensed at least one medication. Kappa and PABAK indicated almost perfect to substantial agreement for antihypertensive medications (Kappa 0.86, PABAK 0.99), thyroid hormones (0.88, 0.98), antiepileptic medications (1.00, 1.00), antithrombotic agents (0.70, 0.96). PABAK value was greater than Kappa for medications such as insulin (Kappa 0.50, PABAK 0.99), antihistamines for systemic use (0.50, 0.99), progestogens (0.28, 0.79), and antibiotics (0.12, 0.63). Adjusted OR was 0.48 (95 % CI 0.26; 0.90) in ex- vs. never smokers, 0.64 (0.38; 1.08) in < high school vs. university, 1.55 (1.01; 2.37) in women with comorbidities, 2.25 (1.19; 4.26) in those aged 40+ vs. 30–34 years.
Gestational age matched exactly in 85.2 % and date of delivery in 99.5 %.
Conclusions
For selected medications used for chronic conditions, the agreement between self-reports and dispensing data was high. For medications with low to very low prevalence of use, PABAK provides a more reliable measure of agreement. Maternal reports and dispensing data are complementary to each other to increase the reliability of information on the use of medications during pregnancy. Birth certificates provide reliable data on the timing of pregnancy. FVG health databases are a valuable source of data for pregnancy research.