01.06.2014 | Original Paper | Ausgabe 6/2014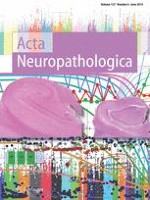 Next-generation active immunization approach for synucleinopathies: implications for Parkinson's disease clinical trials
Zeitschrift:
Autoren:

Markus Mandler, Elvira Valera, Edward Rockenstein, Harald Weninger, Christina Patrick, Anthony Adame, Radmila Santic, Stefanie Meindl, Benjamin Vigl, Oskar Smrzka, Achim Schneeberger, Frank Mattner, Eliezer Masliah
Wichtige Hinweise
Electronic supplementary material
The online version of this article (doi:
10.​1007/​s00401-014-1256-4
) contains supplementary material, which is available to authorized users.
M. Mandler and E. Valera are co-first authors.
Abstract
Immunotherapeutic approaches are currently in the spotlight for their potential as disease-modifying treatments for neurodegenerative disorders. The discovery that α-synuclein (α-syn) can transmit from cell to cell in a prion-like fashion suggests that immunization might be a viable option for the treatment of synucleinopathies. This possibility has been bolstered by the development of next-generation active vaccination technology with short peptides-AFFITOPEs® (AFF)- that do not elicit an α-syn-specific T cell response. This approach allows for the production of long term, sustained, more specific, non-cross reacting antibodies suitable for the treatment of synucleinopathies, such as Parkinson's disease (PD). In this context, we screened a large library of peptides that mimic the C-terminus region of α-syn and discovered a novel set of AFF that identified α-syn oligomers. Next, the peptide that elicited the most specific response against α-syn (AFF 1) was selected for immunizing two different transgenic (tg) mouse models of PD and Dementia with Lewy bodies, the PDGF- and the mThy1-α-syn tg mice. Vaccination with AFF 1 resulted in high antibody titers in CSF and plasma, which crossed into the CNS and recognized α-syn aggregates. Active vaccination with AFF 1 resulted in decreased accumulation of α-syn oligomers in axons and synapses, accompanied by reduced degeneration of TH fibers in the caudo-putamen nucleus and by improvements in motor and memory deficits in both in vivo models. Clearance of α-syn involved activation of microglia and increased anti-inflammatory cytokine expression, further supporting the efficacy of this novel active vaccination approach for synucleinopathies.