01.08.2011 | Research article | Ausgabe 4/2011 Open Access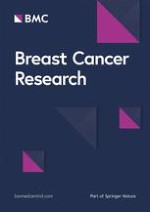 NF-kappaB activation within macrophages leads to an anti-tumor phenotype in a mammary tumor lung metastasis model
Zeitschrift:
Autoren:

Linda Connelly, Whitney Barham, Halina M Onishko, Lianyi Chen, Taylor P Sherrill, Tahera Zabuawala, Michael C Ostrowski, Timothy S Blackwell, Fiona E Yull
Wichtige Hinweise
Electronic supplementary material
The online version of this article (doi:
10.​1186/​bcr2935
) contains supplementary material, which is available to authorized users.
Linda Connelly, Whitney Barham contributed equally to this work.
Competing interests
The authors declare that they have no competing interests.
Authors' contributions
LC performed initial characterization of the model, completed various trials of the tail vein studies, and drafted the manuscript. WB participated in ongoing breeding of the transgenic mice, completed tail vein trials and carried out real-time PCR, western-blot analysis and CDllb bead separation experiments. HO completed immunoflourescent staining, flow-cytometry experiments and analysis, CDllb bead separation experiments - RT-PCR and immunofluorescence, and carried out tail vein injections. LChen participated in the breeding, genotyping, treatment, and collection of mice. TS carried out tail vein injections and aided in lung analysis. TZ and MO created the cfms-rtTA transgenic mouse line. TB was involved in data interpretation and critically edited the manuscript. FE conceived of the study, participated in its design and coordination and helped draft the manuscript. All authors read and approved the final manuscript.
Abstract
Introduction
Metastasis from primary tumor to the lungs is a major cause of the mortality associated with breast cancer. Both immune and inflammatory responses impact whether circulating mammary tumor cells successfully colonize the lungs leading to established metastases. Nuclear factor -kappaB (NF-κB) transcription factors regulate both immune and inflammatory responses mediated in part by the activities of macrophages. Therefore, NF-κB activity specifically within macrophages may be a critical determinant of whether circulating tumor cells successfully colonize the lungs.
Methods
To investigate NF-κB signaling within macrophages during metastasis, we developed novel inducible transgenic models which target expression of the reverse tetracycline transactivator (rtTA) to macrophages using the
cfms
promoter in combination with inducible transgenics that express either an activator (cIKK2) or an inhibitor (IκBα-DN). Doxycyline treatment led to activation or inhibition of NF-κB within macrophages. We used a tail vein metastasis model with mammary tumor cell lines established from MMTV-Polyoma Middle T-Antigen-derived tumors to investigate the effects of modulating NF-κB in macrophages during different temporal windows of the metastatic process.
Results
We found that activation of NF-κB in macrophages during seeding leads to a reduction in lung metastases. The mechanism involved expression of inflammatory cytokines and reactive oxygen species, leading to apoptosis of tumor cells and preventing seeding in the lung. Activation of NF-κB within macrophages after the seeding phase has no significant impact on establishment of metastases.
Conclusions
Our results have identified a brief, defined window in which activation of NF-κB has significant anti-metastatic effects and inhibition of NF-κB results in a worse outcome.