19.05.2016 | Nicht-ST-Hebungsinfarkt | Original articles | Ausgabe 8/2016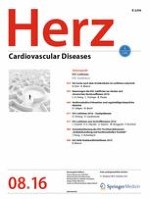 On- versus off-hour care for patients with non-ST-segment elevation myocardial infarction in Germany
Exemplary results within the chest pain unit concept
Zeitschrift:
Autoren:

PD Dr. med. F. Breuckmann, F. Remberg, D. Böse, J. Waltenberger, D. Fischer, T. Rassaf
Wichtige Hinweise
D. Fischer and T. Rassaf contributed equally and are joint senior authors.
Abstract
Aim
The aim of this study was to analyze differences in the timing of invasive management of patients with high-risk acute coronary syndrome without persistent ST-segment elevation (hr-NSTE-ACS) or myocardial infarction without persistent ST-segment elevation (NSTEMI) between on- and off-hours in a German chest pain unit (CPU).
Patients and methods
We retrospectively enrolled 160 NSTEMI patients in the study, who were admitted to two German CPUs in 2013. Patients presenting on weekdays between 8 a.m. and 6 p.m. were compared with patients presenting during off-hours. Data analysis included time intervals from admission to invasive management (goals: for hr-NSTE-ACS, <2 h; for NSTEMI, <24 h) and the resulting guideline adherence.
Results
Guideline-adherent timing of an invasive strategy did not differ significantly between the on-hour (6.5 h [3.0–22.0 h], 79.9 %) and off-hour groups (10.5 h [2.0–20.0 h], 75.3 %;
p
= 0.94), without additional significant differences between admissions during off-hours Monday to Thursday and weekends (10.0 h [2.0–19.0 h], 75.6 % vs. 7.5 h [2.0–20.0 h], 76.2 %;
p
= 0.96).
Conclusion
Our exemplary experience in two different German CPUs demonstrates adequate timing of coronary catheterization in over 75 % of cases, irrespective of admission during on- or off-hours. Nationwide validation of our findings by the German CPU registry is mandatory.