01.12.2017 | Research | Ausgabe 1/2017 Open Access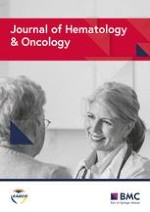 Novel roles of DC-SIGNR in colon cancer cell adhesion, migration, invasion, and liver metastasis
Zeitschrift:
Autoren:

Heya Na, Xiaoli Liu, Xiaomeng Li, Xinsheng Zhang, Yu Wang, Zhaohui Wang, Menglang Yuan, Yu Zhang, Shuangyi Ren, Yunfei Zuo
Wichtige Hinweise
Electronic supplementary material
The online version of this article (doi:
10.​1186/​s13045-016-0383-x
) contains supplementary material, which is available to authorized users.
Abstract
Background
Tumor metastasis is an essential cause of the poor prognosis of colon cancer. DC-SIGNR is a C-type lectin that is frequently found on human liver sinusoidal endothelial cells. LSECtin, which is a homologue of DC-SIGNR, has been demonstrated to participate in colon cancer liver metastasis. Due to the similarities in the expression pattern and structure of the two proteins, we speculated that DC-SIGNR could also be involved in this process.
Methods
Colon cancer cells were treated with the DC-SIGNR protein or control IgG, after which cell migration, invasion, and morphology were assayed. Xenograft mouse models were used to determine the role of DC-SIGNR in colon cancer liver metastasis in vivo. In addition, a human gene expression array was used to detect differential gene expression in colon cancer cells stimulated with the DC-SIGNR protein. The serum level of DC-SIGNR was examined in colon cancer patients by ELISA, and the significance of DC-SIGNR was determined.
Results
In our research, we investigated whether DC-SIGNR promotes colon cancer cell adhesion, migration, and invasion. Knocking down mouse DC-SIGNR decreased the liver metastatic potency of colon cancer cells and increased survival time. Expressing human DC-SIGNR enhanced colon cancer liver metastasis. Furthermore, DC-SIGNR conferred metastatic capability on cancer cells by upregulating various metallothionein isoforms. To validate the above results, we also found that the serum DC-SIGNR level was statistically higher in colon cancer patients with liver metastasis compared with those without metastasis.
Conclusions
These results imply that DC-SIGNR may promote colon carcinoma hepatic metastasis and could serve as a promising therapeutic target for anticancer treatment.