01.12.2017 | Research | Ausgabe 1/2017 Open Access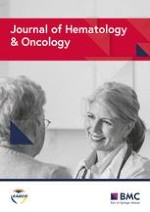 Randomized, double-blind, placebo-controlled phase III study of ixazomib plus lenalidomide-dexamethasone in patients with relapsed/refractory multiple myeloma: China Continuation study
Zeitschrift:
Autoren:

Jian Hou, Jie Jin, Yan Xu, Depei Wu, Xiaoyan Ke, Daobin Zhou, Jin Lu, Xin Du, Xiequn Chen, Junmin Li, Jing Liu, Neeraj Gupta, Michael J. Hanley, Hongmei Li, Zhaowei Hua, Bingxia Wang, Xiaoquan Zhang, Hui Wang, Helgi van de Velde, Paul G. Richardson, Philippe Moreau
Wichtige Hinweise
Electronic supplementary material
The online version of this article (doi:
10.​1186/​s13045-017-0501-4
) contains supplementary material, which is available to authorized users.
Abstract
Background
The China Continuation study was a separate regional expansion of the global, double-blind, placebo-controlled, randomized phase III TOURMALINE-MM1 study of ixazomib plus lenalidomide–dexamethasone (Rd) in patients with relapsed/refractory multiple myeloma (RRMM) following one to three prior therapies.
Methods
Patients were randomized (1:1) to receive ixazomib 4.0 mg or placebo on days 1, 8, and 15, plus lenalidomide 25 mg on days 1–21 and dexamethasone 40 mg on days 1, 8, 15, and 22, in 28-day cycles. Randomization was stratified according to number of prior therapies, disease stage, and prior proteasome inhibitor exposure. The primary endpoint was progression-free survival (PFS). In total, 115 Chinese patients were randomized (57 ixazomib-Rd, 58 placebo-Rd).
Results
At the preplanned final analysis for PFS, after median PFS follow-up of 7.4 and 6.9 months, respectively, PFS was improved with ixazomib-Rd versus placebo-Rd (median 6.7 vs 4.0 months; HR 0.598;
p
 = 0.035). At the preplanned final analysis of overall survival (OS), after median follow-up of 20.2 and 19.1 months, respectively, OS was improved with ixazomib-Rd versus placebo-Rd (median 25.8 vs 15.8 months; HR 0.419;
p
 = 0.001). On the ixazomib-Rd and placebo-Rd arms, respectively, 38 (67%) and 43 (74%) patients reported grade ≥3 adverse events (AEs), 19 (33%) and 18 (31%) reported serious AEs, and 4 (7%) and 5 (9%) died on-study. The most frequent grade 3/4 AEs were thrombocytopenia (18%/7% vs 14%/5%), neutropenia (19%/5% vs 19%/2%), and anemia (12%/0 vs 26%/2%).
Conclusions
This study demonstrated that PFS and OS were significantly improved with ixazomib-Rd versus placebo-Rd, with limited additional toxicity, in patients with RRMM.