30.04.2020 | COUGH | Ausgabe 3/2020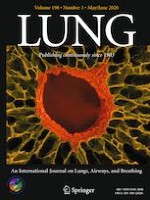 Obesity Predicts Treatment Response to Proton Pump Inhibitor Therapy in Patients with Chronic Cough
Zeitschrift:
Autoren:

Mathilde Descazeaux, Danièle Brouquières, Alain Didier, Marianne Lescouzères, Marie-Françoise Napoléon, Roger Escamilla, Laurent Guilleminault
Wichtige Hinweise
Electronic supplementary material
Publisher's Note
Springer Nature remains neutral with regard to jurisdictional claims in published maps and institutional affiliations.
Abstract
Background
Chronic cough management is challenging as this condition is often associated with multiple comorbidities, requiring a multidisciplinary diagnostic approach. Little is known about the characteristics of obese patients with chronic cough. This study aims to describe treatable traits of chronic cough and the response to pump proton inhibitor (PPI) therapy in this sub-group of patients.
Methods
A retrospective, observational study was performed in patients with chronic cough in a French University Hospital. Characteristics of chronic cough were analyzed for obese (
N
 = 112) and non-obese (
N
 = 355) patients. Refractory cough was estimated at 6 and 12 months.
Results
The 3 main treatable traits associated with chronic cough in obese patients and non-obese patients were gastroesophageal reflux disease (GERD), asthma, and upper airway cough syndrome (UACS). A noticeable difference was the higher frequency of GERD (47.3% vs 34.6%,
p
 = 0.0188) and obstructive sleep apnea (OSA) (9.8% vs 3.1%,
p
 = 0.0080) in obese patients compared to non-obese patients. Pump proton inhibitor (PPI) treatment had a significantly higher success rate in obese patients (32.5% vs 17.0%,
p
 < 0.05) and refractory cough at 12 months was less frequently reported in obese patients (22.3% vs 34.1%,
p
 < 0.05).
Conclusion
In a context of chronic cough, a higher prevalence of GERD was noted in obese patients compared to non-obese patients and obese patients were more responsive to PPI treatment. Moreover, OSA was reported more frequently as a treatable trait in obese patients and should be considered early in the diagnostic evaluation. Prospective clinical studies that evaluate the contribution of obesity to chronic cough are further needed.