01.12.2016 | Research article | Ausgabe 1/2016 Open Access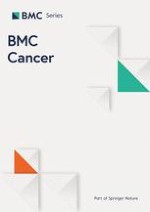 Osteopontin regulates proliferation, apoptosis, and migration of murine claudin-low mammary tumor cells
Zeitschrift:
Autoren:

S. Saleh, D. E. Thompson, J. McConkey, P. Murray, R. A. Moorehead
Abstract
Background
Osteopontin is a secreted phosphoglycoprotein that is expressed by a number of normal cells as well as a variety of tumor cells. With respect to breast cancer, osteopontin has been implicated in regulating tumor cell proliferation and migration/metastasis and may serve as a prognostic indicator. However it remains unclear whether osteopontin has the same impact in all breast cancer subtypes and in particular, osteopontin's effects in claudin-low breast cancer are poorly understood.
Methods
cDNA microarrays and qRT-PCR were used to evaluate osteopontin expression in mammary tumors from MTB-IGFIR transgenic mice and cell lines derived from these tumors. siRNA was then used to determine the impact of osteopontin knockdown on proliferation, apoptosis and migration
in vitro
in two murine claudin-low cell lines as well as identify the receptor mediating osteopontin's physiologic effects.
Results
Osteopontin was expressed at high levels in mammary tumors derived from MTB-IGFIR transgenic mice compared to normal mammary tissue. Evaluation of cell lines derived from different mammary tumors revealed that mammary tumor cells with claudin-low characteristic expressed high levels of osteopontin whereas mammary tumor cells with mixed luminal and basal-like features expressed lower levels of osteopontin. Reduction of osteopontin levels using siRNA significantly reduced proliferation and migration while increasing apoptosis in the claudin-low cell lines. Osteopontin's effect appear to be mediated through a receptor containing ITGAV and not through CD44.
Conclusions
Our data suggests that mammary tumors with a mixed luminal/basal-like phenotype express high levels of osteopontin however this osteopontin appears to be largely produced by non-tumor cells in the tumor microenvironment. In contrast tumor cells with claudin-low characteristics express high levels of osteopontin and a reduction of osteopontin in these cells impaired proliferation, survival and migration.