04.07.2020 | Original Contributions | Ausgabe 11/2020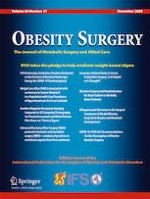 Outcomes of Bariatric Surgery in African Americans: an Analysis of the Metabolic and Bariatric Surgery Accreditation and Quality Improvement Program (MBSAQIP) Data Registry
Zeitschrift:
Autoren:

Benedict Y. Hui, Amanda Roberts, Kyle J. Thompson, Iain H. McKillop, Naresh Sundaresan, Lauren Poliakin, Selwan D. Barbat, Timothy S. Kuwada, Keith S. Gersin, Abdelrahman Nimeri
Wichtige Hinweise
Previous Communications
This study was presented in part at the 2019 American Society of Metabolic and Bariatric Surgery (ASMBS) Weekend, Chicago, IL.
Publisher's Note
Springer Nature remains neutral with regard to jurisdictional claims in published maps and institutional affiliations.
Abstract
Background
The incidence of obesity is disproportionally high in African Americans (AA) in the United States. This study compared outcomes for AA patients undergoing Roux-en-Y gastric bypass (RYGB) or sleeve gastrectomy (SG) with non-AA patients.
Methods
The MBSAQIP database was reviewed for RYGB and SG patients (2015–2017). Patients were identified as AA or non-AA and grouped to RYGB or SG. Combined and univariate analyses were performed on unmatched/propensity matched populations to assess outcomes.
Results
After applying exclusion criteria, 75,409 AA and 354,305 non-AA patients remained. Univariate analysis identified AA-RYGB and AA-SG patients were heavier and younger than non-AA patients. Overall, AA patients tended to have fewer preoperative comorbidities than non-AA patients with the majority of AA comorbidities related to hypertension and renal disease. Analysis of propensity matched data confirmed AA bariatric surgery patients had increased cardiovascular-related disease incidence compared with non-AA patients. Perioperatively, AA-RYGB patients had longer operative times, increased rates of major complications/ICU admission, and increased incidence of 30-day readmission, re-intervention, and reoperation, concomitant with lower rates of minor complications/superficial surgical site infection (SSI) compared with non-AA patients. For SG, AA patients had longer operative times and higher rates of major complications and 30-day readmission, re-intervention, and mortality, coupled with fewer minor complications, superficial/organ space SSI, and leak.
Conclusion
African American patients undergoing bariatric surgery are younger and heavier than non-AA patients and present with different comorbidity profiles. Overall, AAs exhibit worse outcomes following RYGB or SG than non-AA patients, including increased mortality rates in AA-SG patients.