01.06.2014 | Original Research Paper | Ausgabe 6/2014 Open Access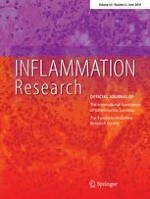 Oxidative stress promotes
d

-GalN/LPS-induced acute hepatotoxicity by increasing glycogen synthase kinase 3β activity
Zeitschrift:
Autoren:

Linlin Wei, Feng Ren, Xiangying Zhang, Tao Wen, Hongbo Shi, Sujun Zheng, Jing Zhang, Yu Chen, Yuanping Han, Zhongping Duan
Wichtige Hinweise
Responsible Editor: Liwu Li.
L. Wei and F. Ren authors contributed equally to this work.
Abstract
Objective
Our previous studies have demonstrated that glycogen synthase kinase 3β (GSK3β) activity is increased in the progression of acute liver failure (ALF), which aggravates liver injury, while its regulatory mechanism remains elusive. This study is designated to address whether oxidative stress activates GSK3β to promote ALF.
Methods
In a murine model induced by
d
-galactosamine (
d
-GalN) (700 mg/kg) and LPS (10 μg/kg),
N
-acetylcysteine (300 mg/kg) or SB216763 (25 mg/kg) was used to inhibit oxidative stress or GSK3β activity, respectively. Serum alanine aminotransferase and aspartate aminotransferase levels were assessed. The parameters of oxidative stress were evaluated in liver tissue. Whether GSK3β inhibition protects hepatocytes from oxidative stress-induced cell apoptosis was investigated in vitro. Moreover, the activity of GSK3β was measured in the liver of chronic hepatitis B (CHB) patients and ALF patients.
Results
In vivo,
N
-acetylcysteine ameliorated the
d
-GalN/LPS-induced hepatotoxicity and reduced GSK3β activity; GSK3β inhibition increased hepatic superoxide dismutase activity and the glutathione content, decreased malondialdehyde production in the liver tissues; while GSK3β inhibition suppressed the JNK activation in the liver and decreased cytochrome
c
release from mitochondria. In vitro, GSK3β inhibition lessened hepatocytes apoptosis induced by H
2
O
2
or Antimycin A, as demonstrated by decreased LDH activity, and reduced cleavage of caspase-3 expression. Furthermore, GSK3β activity in the CHB patients was increased in the phase of ALF.
Conclusions
Results indicate that GSK3β activation contributes to liver injury by participating in oxidative stress response in ALF and is, therefore, a potential therapeutic target for ALF.