01.12.2015 | Study protocol | Ausgabe 1/2015 Open Access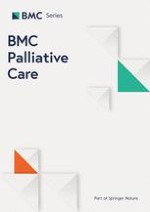 Palliative care consultation services in hospitals in the Netherlands: the design of the COMPASS study
Zeitschrift:
Autoren:

Arianne Brinkman-Stoppelenburg, Suzanne Polinder, Yvonne Vergouwe, Agnes van der Heide
Wichtige Hinweise
Competing interest
The author(s) declare that they have no competing interests.
Authors' contributions
AvdH en AB designed the study. AB drafted the article. AvdH, SP and YV revised it critically for important intellectual content. All authors have approved the final manuscript.
Abstract
Background
Patients with an advanced incurable disease are often hospitalised for some time during the last phase of life. Care in hospitals is generally focussed at curing disease and prolonging life and may therefore not in all cases adequately address the needs of such patients. We present the COMPASS study, a study on the effe
c
ts and c
o
sts of consultation tea
m
s for
pa
lliative care in ho
s
pital
s
.
This observational study aims to investigate the use, effects and costs of PCT consultation services for hospitalized patients with incurable cancer in the Netherlands.
Methods/design
The study consists of 3 parts:
1. A questionnaire, interviews and a focus group discussion to investigate the characteristics of PCT consultation in 12 hospitals. PCTs will register their activities to calculate the costs of PCT consultation.
2. Cancer patients for whom the attending physician would not be surprised that they would die within 12 month will be included in a medical file search in three hospitals. Medical records will be investigated to compare care, treatment and hospital costs between patients with and patients without PCT consultation.
3. In the other nine hospitals, we will perform a longitudinal study, and compare quality of life between 100 patients for whom a PCT was consulted with 200 patients without PCT consultation. Propensity score matching will be used to adjust for differences between both patient groups. Patients will be followed for three months after inclusion. Quality of life will be assessed with the Palliative Outcome Scale, the EuroQol-5d and the EORTC-QLQ-C15 PAL. Satisfaction with care in the hospital is measured with the IN-PATSAT32. The cost impact of PCT consultation will also be explored.
Discussion
This is the first multicenter study on PCT consultation in the Netherlands. The study will give valuable insight in the process, effects and costs of PCT consultation in hospitals. It is anticipated that PCT consultation has a positive effect on patients' quality of life and satisfaction with care and will lead to less hospital care costs.