21.06.2017 | Brief Communication | Ausgabe 4/2017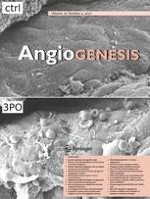 Pharmacological intervention of MKL/SRF signaling by CCG-1423 impedes endothelial cell migration and angiogenesis
Zeitschrift:
Autoren:

David Gau, William Veon, Teresa L. Capasso, Ralph Bottcher, Sanjeev Shroff, Beth L. Roman, Partha Roy
Wichtige Hinweise
Electronic supplementary material
The online version of this article (doi:
10.​1007/​s10456-017-9560-y
) contains supplementary material, which is available to authorized users.
Abstract
De novo synthesis of cytoskeleton-regulatory proteins triggered by the megakaryoblastic leukemia (MKL)/serum response factor (SRF) transcriptional system in response to pro-angiogenic growth factors lies at the heart of endothelial cell (EC) migration (a critical element of angiogenesis) and neovascularization. This study explores whether pharmacological intervention of MKL/SRF signaling axis by CCG-1423 is able to suppress angiogenesis. Our studies show that CCG-1423 inhibits migration and cord morphogenesis of EC in vitro and sprouting angiogenesis ex vivo and in vivo, suggesting CCG-1423 could be a novel anti-angiogenic agent. Kymography analyses of membrane dynamics of EC revealed that CCG-1423 treatment causes a major defect in membrane protrusion. CCG-1423 treatment led to attenuated expression of several actin-binding proteins that are important for driving membrane protrusion including ArpC2, VASP, and profilin1 (Pfn1) with the most drastic effect seen on the expression of Pfn1. Finally, depletion of Pfn1 alone is also sufficient for a dramatic decrease in sprouting angiogenesis of EC in vitro and ex vivo, further suggesting that Pfn1 depletion may be one of the mechanisms of the anti-angiogenic action of CCG-1423.