01.12.2014 | Research | Ausgabe 1/2014 Open Access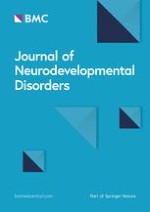 Pre-pulse inhibition and antisaccade performance indicate impaired attention modulation of cognitive inhibition in 22q11.2 deletion syndrome (22q11DS)
Zeitschrift:
Autoren:

Kathryn Louise McCabe, Rebbekah Josephine Atkinson, Gavin Cooper, Jessica Lauren Melville, Jill Harris, Ulrich Schall, Carmel Maree Loughland, Renate Thienel, Linda Elisabet Campbell
Wichtige Hinweise
Electronic supplementary material
The online version of this article (doi:
10.​1186/​1866-1955-6-38
) contains supplementary material, which is available to authorized users.
Kathryn Louise McCabe, Rebbekah Josephine Atkinson contributed equally to this work.
Competing interests
The authors declare that they have no competing interests.
Authors' contributions
KLM, RJA and LEC planned the analyses. KLM, RJA, LEC, JLM, JH, GC and RT developed measures, collected and processed the data and conducted the main analysis. GC was involved in the development and application of computer programs used for the analyses. KLM wrote the first draft of the paper. US, CML and LEC participated in planning the main study and obtaining funding. All authors contributed to the interpretation of the data and to the writing of the paper. All authors have approved the final version of the paper.
Abstract
Background
22q11.2 deletion syndrome (22q11DS) is associated with a number of physical anomalies and neuropsychological deficits including impairments in executive and sensorimotor function. It is estimated that 25% of children with 22q11DS will develop schizophrenia and other psychotic disorders later in life. Evidence of genetic transmission of information processing deficits in schizophrenia suggests performance in 22q11DS individuals will enhance understanding of the neurobiological and genetic substrates associated with information processing. In this report, we examine information processing in 22q11DS using measures of startle eyeblink modification and antisaccade inhibition to explore similarities with schizophrenia and associations with neurocognitive performance.
Methods
Startle modification (passive and active tasks; 120- and 480-ms pre-pulse intervals) and antisaccade inhibition were measured in 25 individuals with genetically confirmed 22q11DS and 30 healthy control subjects.
Results
Individuals with 22q11DS exhibited increased antisaccade error as well as some evidence (trend-level effect) of impaired sensorimotor gating during the active condition, suggesting a dysfunction in controlled attentional processing, rather than a pre-attentive dysfunction using this paradigm.
Conclusions
The findings from the present study show similarities with previous studies in clinical populations associated with 22q11DS such as schizophrenia that may indicate shared dysfunction of inhibition pathways in these groups.