12.05.2017 | Assisted Reproduction Technologies | Ausgabe 7/2017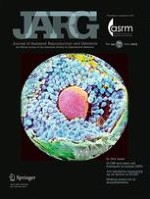 Pregnancy rates for single embryo transfer (SET) of day 5 and day 6 blastocysts after cryopreservation by vitrification and slow freeze
Zeitschrift:
Autoren:

Leah Kaye, Erica Anspach Will, Alison Bartolucci, John Nulsen, Claudio Benadiva, Lawrence Engmann
Abstract
Purpose
The purpose of this study was to compare clinical and ongoing pregnancy rates in cycles with single embryo transfer (SET) of blastocysts cryopreserved on day 5 or day 6. Our aim was to determine whether day 6 blastocysts perform adequately to recommend SET.
Methods
Retrospective cohort study including 468 transfer cycles for 392 women younger than age 38 undergoing SET at a university-affiliated IVF clinic in the USA. A total of 261 day 5 blastocysts and 207 day 6 blastocysts for frozen-thawed SET between 2010 and 2016 were analyzed. Data included cryopreservation by both a slow freeze method and vitrification.
Results
In total, 59.0% of day 5 SET cycles resulted in a clinical pregnancy compared to 54.1% of day 6 blastocysts (
p
= 0.54). Ongoing pregnancy rates from day 5 frozen-thawed blastocysts (51.7%) were comparable to day 6 (44.9%,
p
= 0.14). When looking at vitrified blastocysts only, there were no significant differences between day 5 and day 6 blastocysts, with a clinical pregnancy rate of 69.2% for day 5 and 72.5% for day 6 (
p
= 0.68).
Conclusions
SETs of day 6 cryopreserved blastocysts resulted in similar clinical and ongoing pregnancy rates compared to day 5, particularly after vitrification.