09.05.2015 | Original Article | Ausgabe 4/2016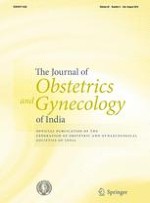 Preoperative Use of 10-mg Metoclopramide and 50-mg Dimenhydrinate in the Prophylaxis of Postoperative Nausea and Vomiting in Elective Caesarean Births: A Prospective Randomized Clinical Study
Zeitschrift:
Autoren:

Ürfettin Hüseyinoğlu, Kahraman Ülker
Wichtige Hinweise
Previous Presentation
A brief summary of the study was presented in "Türk Anestezi ve Reanimation Derneği 46. Ulusal Kongresi TARK (Turkish Anesthesia and Reanimation Association's 46th National Congress)" held in North Cyprus between 7–12 November, 2012.
Abstract
Background
The purpose of this study was to assess the efficacy and outcomes of preoperative prophylactic metoclopramide and dimenhydrinate use in elective cesarean births.
Methods
Participants (
n
= 84) scheduled for elective cesarean births were randomized equally into placebo (10 cc 0.9 % NaCl), 10-mg metoclopramide or 50-mg dimenhydrinate groups. Oral alimentation was prohibited 8 h before the surgery; however, patients continued drinking water until 4 h before surgery. Placebo and antiemetics were administered 1 h before the anticipated procedure in a 5-ml syringe. In metoclopramide and dimenhydrinate group, an ampoule of the agents was completed to 5 ml by adding 0.9 % NaCl. In the control group 5 ml of 0.9 % NaCl was used. All prophylactic agents were administered intramuscularly. All patients received a general anesthesia. The placebo group (control group) was compared with the metoclopramide and dimenhydrinate groups.
Results
Demographic data including maternal age, height, weight, body mass index, gravidity, parity, miscarriage, induced abortion, the number of offspring, and the medical history did not show significant differences among the three groups. Postoperative nausea, vomiting, and the use of rescue medication ratios were significantly lower in metoclopramide and dimenhydrinate groups compared with the placebo group (
p
< 0.05); however, the difference between the metoclopramide and dimenhydrinate groups was not significant (
p
> 0.05).
Conclusion
Dimenhydrinate and metoclopramide significantly decrease postoperative nausea, vomiting, and the need for rescue antiemetic medication. Both agents have similar efficacy and may be used as an alternative to each other.