01.12.2017 | Research article | Ausgabe 1/2017 Open Access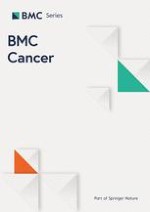 Presence of human papillomavirus DNA in breast cancer: a Spanish case-control study
Zeitschrift:
Autoren:

Silvia Delgado-García, Juan-Carlos Martínez-Escoriza, Alfonso Alba, Tina-Aurora Martín-Bayón, Hortensia Ballester-Galiana, Gloria Peiró, Pablo Caballero, Jose Ponce-Lorenzo
Abstract
Background
Breast cancer is one of the most important neoplasia among women. It was recently suggested that biological agents could be the etiological cause, particularly Human Papilloma Virus (HPV). The aim of this study was to explore the presence of HPV DNA in a case-control study.
Methods
We performed our study including 251 cases (breast cancer) and 186 controls (benign breast tumors), using three different molecular techniques with PCR (GP5/GP6, CLART® and DIRECT FLOW CHIP®).
Results
HPV DNA was evidenced in 51.8% of the cases and in 26.3% of the controls (
p
< 0.001). HPV-16 was the most prevalent serotype. The odds ratio (OR) of HPV within a multivariate model, taking into account age and breastfeeding, was 4.034.
Conclusions
Our study, with methodological rigour and a sample size not previously found in the literature, demonstrate a significant presence of HPV DNA in breast cancer samples. A possible causal relationship, or mediation or not as a cofactor, remains to be established by future studies.