27.08.2018 | Review | Ausgabe 10/2019 Open Access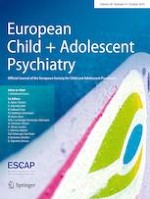 Prevalence of mental disorders in young refugees and asylum seekers in European Countries: a systematic review
Zeitschrift:
Autoren:

Christina Kien, Isolde Sommer, Anna Faustmann, Lacey Gibson, Martha Schneider, Eva Krczal, Robert Jank, Irma Klerings, Monika Szelag, Bernd Kerschner, Petter Brattström, Gerald Gartlehner
Wichtige Hinweise
Electronic supplementary material
Introduction
Methods
We developed a systematic review protocol according to the Preferred Reporting Items for Systematic Reviews and Meta-Analysis for Protocols (PRISMA-P) reporting guidelines [
18
]. The research question laid out in this article was part of a systematic review registered in PROSPERO (an international database of prospectively registered systematic reviews in health and social care) on October 19th, 2017 under the number: CRD42017080039. Throughout this manuscript, we followed the PRISMA (Preferred Reporting Items for Systematic Reviews and Meta-Analyses) statement [
19
] to report this systematic review.
Eligibility criteria
In accordance with the research question, we specified a priori a list of inclusion and exclusion criteria following the recommended Condition-Context-Population-Framework (CoCoPop) for prevalence data [
17
]. We included studies if they (1) were published in peer-reviewed journal articles, (2) investigated the prevalence of psychiatric disorders (as primary outcomes) or other psychological problems (as secondary outcomes), (3) examined unaccompanied or accompanied asylum-seeking children and adolescents or refugee minors (≤ 21 years, to allow for some outliers in the age group), (4) and were conducted in European countries. We excluded studies, which provided data on internally displaced children only or on children and adolescents that were invited to participate in the study after their attendance of a mental health clinic. The detailed inclusion and exclusion criteria are depicted in Table
1
. We are not reporting on differences between refugees and asylum seekers because most studies included mixed populations or did not state explicitly the legal status of the included children and adolescents.
Table 1
Eligibility criteria according to Condition-Context-Population-Framework (CoCoPop) for prevalence data [
17
]
Inclusion criteria

Exclusion criteria

Condition

Primary outcomes: anxiety disorder (general anxiety disorder, social phobia, panic disorder), bipolar disorder, eating disorder, major depressive disorder, posttraumatic stress disorder, schizophrenia, somatoform disorders, substance abuse of illicit drugs, alcohol and tobacco, suicidal ideation and behaviour

Secondary outcomes:

Other psychological problems

: psychological distress, behaviour problems, mental health problems, emotional problems, emotional well-being

All other mental disorders, such as personality disorder

Assessment process: With a reliable, validated self-assessment or proxy-assessment tool or with a structured clinical interview

Assessment time: When the assessment happened over several time points we took the first available data point

Self-developed questionnaire without reporting on psychometric properties

Context

European Countries (Albania, Andorra, Armenia, Austria, Azerbaijan, Belarus, Belgium, Bosnia and Herzegovina, Bulgaria, Croatia, Cyprus, Czech Republic, Denmark, Estonia, Finland, France, Georgia, Germany, Greece, Hungary, Iceland, Ireland, Italy, Kazakhstan, Kosovo, Latvia, Liechtenstein, Lithuania, Luxembourg, Macedonia [FYROM], Malta, Moldova, Monaco, Montenegro, Netherlands, Norway, Poland, Portugal, Romania, Russia, San Marino, Serbia, Slovakia, Slovenia, Spain, Sweden, Switzerland, Turkey, Ukraine, United Kingdom [UK], Vatican City [Holy See]) see list:

https://​www.​countries-ofthe-world.​com/​countries-of-europe.​html

Population

Unaccompanied or accompanied asylum-seeking children and adolescents or refugee minors (≤ 21 years) [including adolescents up to 23 years, if the age group 21–23 years comprised < 50% of the study population]

Internally displaced children and adolescents (i.e. people who have not crossed a boarder to find safety);

Study participation is based on the attendance of a mental health department/clinic
Literature search strategy
We conducted a systematic literature search of Ovid MEDLINE, PsycINFO (via Ebsco), CINAHL (The Cumulative Index to Nursing and Allied Health Literature, via Ebsco), PubMed (for non-MEDLINE content) and Scopus for the period from January, 1st 1990 to October, 17th 2017. An experienced information specialist developed a search strategy using a combination of different MeSH (Medical subject headings) terms and variations of free-text key words (consisting of search terms for 'refugees' AND 'minors' AND 'mental disorders' AND 'Europe'). We did not limit the search to any specific languages. The search strategy was developed in Ovid MEDLINE and adapted for the other databases. The detailed search strategy, which we tested using known relevant articles, is available in Additional Material 1. Additionally, we complemented electronic searches by checking reference lists of pertinent review articles and using forward citation tracking of key articles in the field. We further conducted grey literature searches considering government surveillance data, reports from World Health Organization (WHO), United Nations High Commissioner for Refugees (UNHCR), the European Council on Refugees and Exiles (ECRE) and Médecins Sans Frontières (MSF).
Study selection and data extraction
We imported all references into the Systematic Review Software Covidence [
20
] and used this program throughout the review process. Two reviewers independently screened abstracts and full-texts against pre-specified criteria. They resolved discrepancies about inclusion or exclusion by consensus or by involving a third reviewer. The abstract and full-text review forms were pilot-tested and the review form was adapted according to feedback of the pilot review participants.
Next, we pilot-tested and used standardized data extraction forms to gather relevant information systematically from each study. One investigator extracted data relating to study information, study method, population, and outcomes/condition. A second investigator checked all extracted data for completeness and accuracy. If the publications did not report the necessary information for relevant outcomes, we contacted authors to request additional data.
Risk of bias assessment of selected studies
We evaluated the risk of bias of included studies using a modified version of the standardized critical appraisal tool (AXIS tool) to assess the quality and risk of bias in cross-sectional studies [
21
]. Risk of bias was assessed at the outcome level by two independent reviewers. Again, the reviewers solved disagreement by discussion or by involving a third reviewer. We collapsed the information into a final risk of bias rating for each individual included study using three distinct categories: low, unclear, or high risk of bias.
Synthesis and analysis
We performed exploratory random effect meta-analyses based on a logit transformation to calculate weighted summary proportions using generic inverse variance models to synthesise prevalence estimates of studies that were similar with respect to outcome measurement [
17
]. We pooled studies when there were at least three different studies reporting on the same outcome. We tested for heterogeneity with Cochrane's Q test and quantified its magnitude using
I
2
and
τ
2
. We conducted all statistical analyses using Comprehensive Meta-Analysis version 3.0.
Because of high heterogeneity for all outcomes of interest, we conducted subgroup analyses to explore heterogeneity: (i) accompanied vs. unaccompanied refugees/asylum seekers, (ii) type of assessment of mental disorders (structured clinical interview vs. self-report questionnaires), and (iii) sampling procedure (random sampling or census survey vs. non-random sampling). As we did not identify enough similar studies—contrary to what we stated in the protocol—we could not analyse differences between host countries and between placement types (refugee camps vs. non-refugee camps). We carried out sensitivity analyses to assess the effect of high risk of bias studies on the overall effect. Because of very high, unexplained heterogeneity for all outcomes of interest, we do not report pooled effects of prevalence estimates. Throughout the manuscript, we present prevalence estimates as medians and interquartile ranges. Interquartile ranges reflect estimates between the 25th and the 75th percentiles of a range of estimates and eliminate extreme values at both ends of a spectrum.
Confidence in cumulative evidence
For assessing the confidence in available evidence for the prevalence of psychiatric disorders, we followed the guidance of the Project on a Framework for Rating Evidence in Public Health (PRECEPT) [
22
]. This project adapted the GRADE scheme (Grading of Recommendations Assessment, Development and Evaluation) [
23
] to prevalence data [
22
]. We only considered the defined primary outcomes but not the secondary outcomes stated in the protocol (see Table
1
). No decision-makers were involved in the selection of outcomes. Criteria for downgrading the quality of evidence according to GRADE are risk of bias, inconsistency, indirectness, imprecision and publication bias using four grades: high, moderate, low, and very low. For each outcome, the quality of evidence is initially rated as "high" and not as "low" as in other observational studies [
22
]. We dually evaluated both the overall quality of evidence for each outcome and solved disagreement through discussion.
Results
Discussion
In conclusion, the investigated refugee and asylum-seeking children and adolescents were affected by high levels of PTSD, but also by anxiety and depression disorders. As the results were highly heterogeneous, the evidence base could be improved by international methodologically comparable studies with sufficiently large sample sizes drawn randomly among specified refugee populations.
Acknowledgements
We are very grateful to the authors of the studies for their time to provide additional data and further explanations. We also would like to thank Marlene Spatt for her administrative support. Open access funding provided by Danube University Krems University for Continuing Education.
Compliance with ethical standards
Conflict of interest
The authors declare that they have no competing interests.
Open Access
This article is distributed under the terms of the Creative Commons Attribution 4.0 International License (
http://​creativecommons.​org/​licenses/​by/​4.​0/​
), which permits unrestricted use, distribution, and reproduction in any medium, provided you give appropriate credit to the original author(s) and the source, provide a link to the Creative Commons license, and indicate if changes were made.