20.11.2017 | Clinical Study | Ausgabe 3/2018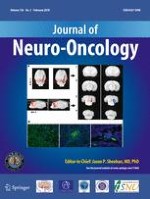 Prognostic factors for survival in adult patients with recurrent glioblastoma: a decision-tree-based model
Zeitschrift:
Autoren:

Etienne Audureau, Anaïs Chivet, Renata Ursu, Robert Corns, Philippe Metellus, Georges Noel, Sonia Zouaoui, Jacques Guyotat, Pierre-Jean Le Reste, Thierry Faillot, Fabien Litre, Nicolas Desse, Antoine Petit, Evelyne Emery, Emmanuelle Lechapt-Zalcman, Johann Peltier, Julien Duntze, Edouard Dezamis, Jimmy Voirin, Philippe Menei, François Caire, Phong Dam Hieu, Jean-Luc Barat, Olivier Langlois, Jean-Rodolphe Vignes, Pascale Fabbro-Peray, Adeline Riondel, Elodie Sorbets, Marc Zanello, Alexandre Roux, Antoine Carpentier, Luc Bauchet, Johan Pallud, for the Club de Neuro-Oncologie of the Société Française de Neurochirurgie
Wichtige Hinweise
Etienne Audureau and Anaïs Chivet have contributed equally to this work.
Abstract
We assessed prognostic factors in relation to OS from progression in recurrent glioblastomas. Retrospective multicentric study enrolling 407 (training set) and 370 (external validation set) adult patients with a recurrent supratentorial glioblastoma treated by surgical resection and standard combined chemoradiotherapy as first-line treatment. Four complementary multivariate prognostic models were evaluated: Cox proportional hazards regression modeling, single-tree recursive partitioning, random survival forest, conditional random forest. Median overall survival from progression was 7.6 months (mean, 10.1; range, 0–86) and 8.0 months (mean, 8.5; range, 0–56) in the training and validation sets, respectively (p = 0.900). Using the Cox model in the training set, independent predictors of poorer overall survival from progression included increasing age at histopathological diagnosis (aHR, 1.47; 95% CI [1.03–2.08]; p = 0.032), RTOG–RPA V–VI classes (aHR, 1.38; 95% CI [1.11–1.73]; p = 0.004), decreasing KPS at progression (aHR, 3.46; 95% CI [2.10–5.72]; p < 0.001), while independent predictors of longer overall survival from progression included surgical resection (aHR, 0.57; 95% CI [0.44–0.73]; p < 0.001) and chemotherapy (aHR, 0.41; 95% CI [0.31–0.55]; p < 0.001). Single-tree recursive partitioning identified KPS at progression, surgical resection at progression, chemotherapy at progression, and RTOG–RPA class at histopathological diagnosis, as main survival predictors in the training set, yielding four risk categories highly predictive of overall survival from progression both in training (p < 0.0001) and validation (p < 0.0001) sets. Both random forest approaches identified KPS at progression as the most important survival predictor. Age, KPS at progression, RTOG–RPA classes, surgical resection at progression and chemotherapy at progression are prognostic for survival in recurrent glioblastomas and should inform the treatment decisions.