01.12.2018 | Primary research | Ausgabe 1/2018 Open Access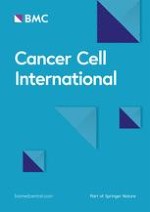 Prognostic significance of CXCL5 expression in cancer patients: a meta-analysis
Zeitschrift:
Autoren:

Binwu Hu, Huiqian Fan, Xiao Lv, Songfeng Chen, Zengwu Shao
Wichtige Hinweise
Binwu Hu and Huiqian Fan contributed equally to this work
Abstract
Background
CXCL5 is a member of the CXC-type chemokine family, which has been found to play important roles in tumorigenesis and cancer progression. Recent studies have demonstrated that CXCL5 could serve as a potential prognostic biomarker for cancer patients. However, the prognostic value of CXCL5 is still controversial.
Methods
We systematically searched PubMed, Embase and Web of Science to obtain all relevant articles investigating the prognostic significance of CXCL5 expression in cancer patients. Hazards ratios (HR) with corresponding 95% confidence intervals (CI) were pooled to estimate the association between CXCL5 expression levels with survival of cancer patients.
Results
A total of 15 eligible studies including 19 cohorts and 5070 patients were enrolled in the current meta-analysis. Our results demonstrated that elevated expression level of CXCL5 was significantly associated with poor overall survival (OS) (pooled HR 1.70; 95% CI 1.36–2.12), progression-free survival (pooled HR 1.65; 95% CI 1.09–2.49) and recurrence-free survival (pooled HR 1.49; 95% CI 1.15–1.93) in cancer patients. However, high or low expression of CXCL5 made no difference in predicting the disease-free survival (pooled HR 0.63; 95% CI 0.11–3.49) of cancer patients. Furthermore, we found that high CXCL5 expression was associated with reduced OS in intrahepatic cholangiocarcinoma (HR 1.91; 95% CI 1.31–2.78) and hepatocellular carcinoma (HR 1.87; 95% CI 1.55–2.27). However, there was no significant association between expression level of CXCL5 with the OS in lung cancer (HR 1.25; 95% CI 0.79–1.99) and colorectal cancer (HR 1.16; 95% CI 0.32–4.22, p = 0.826) in current meta-analysis.
Conclusions
In conclusion, our meta-analysis suggested that elevated CXCL5 expression might be an adverse prognostic marker for cancer patients, which could help the clinical decision making process.