01.12.2018 | Case Report | Ausgabe 1/2018 Open Access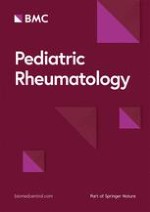 Progressive pseudorheumatoid dysplasia with new-found gene mutation of Wntl inducible signaling pathway protein 3
Zeitschrift:
Autoren:

Wenji Chen, Shiyan Mo, Gui Luo, Yanyan Wang, Xiaohu Deng, Jian Zhu, Wei Zhao
Wichtige Hinweise
Wenji Chen and Shiyan Mo contributed equally to this work.
Abstract
Background
As one kind of osteochondrodysplasia, progressive pseudorheumatoid dysplasia (PPD) is also known as spondyloepiphyseal dysplasia tarda with progressive arthropathy or arthropathy progressive pseudorheumatoid of childhood. PPD is a very rare disease, especially in China, and has an estimated prevalence of 1/1000000 due to lacking definite prevalence survey. It is an autosomal recessive disorder caused by gene mutation of Wntl inducible signaling pathway protein 3 (WISP3). Its basic pathological change is persistent degeneration and loss of articular cartilage in multiple joints. Its clinical appearances include bone enlargement, platyspondyly, irregular endplate, secondary osteoarthritis, extensive osteoporosis, joint rigidity and function loss. Clinical diagnosis of PPD is made based on clinical appearance and imaging examinations, whereas its definite diagnosis depends on gene sequencing. PPD has no severe effect on life span, but causes high disability rate and very poor prognosis. There are only case reports with limited information in China.
Case presentation
One female patient was diagnosed as PPD and secondary osteoarthritis. She had typical clinical appearance and imaging examinations, and received individualized therapeutic regimens. She had a gene mutation (
c.72delT, p.T24TfsX4
) of WISP3. This gene mutation has not been reported by previous literatures and included in Single Nucleotide Polymorphism Database.
Conclusions
As the first time, this paper reported a patient with PPD caused by new-found gene mutation (
c.72delT, p.T24TfsX4
) of WISP3.