01.03.2012 | Miscellaneous | Ausgabe 3/2012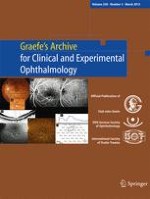 Proliferation of the ciliary epithelium with retinal neuronal and photoreceptor cell differentiation in human eyes with retinal detachment and proliferative vitreoretinopathy
Autoren:

Yvette Ducournau, Claude Boscher, Ron A. Adelman, Colette Guillaubey, Didier Schmidt-Morand, Jean-François Mosnier, Didier Ducournau
Wichtige Hinweise
The Institutional IRB did not require a permit for this study. The work is in accordance with the Code of Ethics of the World Medical Association (Declaration of Helsinki) for experiments involving humans.
This study was not sponsored.
The authors do not have any financial interest with regard to this manuscript.
The authors have full control of all primary data, and they agree to allow Graefe's Archive for Clinical and Experimental Ophthalmology to review their data if requested.
Abstract
Background
There is some in vitro evidence that the adult ciliary body might harbor an inactive population of stem/retinal progenitor cells (RPC), or that ciliary epithelial (CE) cells might have the capacity to trans-differentiate, which may result in a balance between neural and epithelial properties. We have reported alterations in the ciliary body (CB) and adjacent vitreous in vivo by endoscopic evaluation of human eyes with a history of retinal detachment (RD) and anterior proliferative vitreoretinopathy (PVR).
Methods
The present study examined with light microscopy three paraffin–embedded phthisic human eyes with RD and anterior PVR. One normal eye, exenterated for an orbital tumor, served as the control. All specimens were stained with hematoxilin and eosin safran (HES), and serial sections were immunostained with antibodies against EGFR, Ki67, CD133, NSE, rhodopsin, and GFAP.
Results
We observed: (1) an intense proliferation and displacement of clusters of CE cells into the vitreous base in a "neurosphere-like" fashion; (2) differentiation of CE cells towards early and late neuronal [photoreceptor (PR)] lineages; and (3) strong staining of EGF and EGFR in the CE. Such proliferation, migration, and differentiation were not present in the CE of the control eye. GFAP staining was intensely positive in the three detached retinae, and was negative in the CE of eyes with RD, as well as in the retina of the control eye.
Conclusions
Our observations suggest that EGFR-positive CE cells in the adult human eye in vivo with RD and PVR form "neurosphere-like" structures; their differentiation seems to be directed towards the neural and photoreceptor lineage, and not towards glial formation. In the adult human eye, the CE in a pathological retinal environment such as RD might provide a spontaneous source of donor cells for retinal transplantation.