01.08.2011 | Research article | Ausgabe 4/2011 Open Access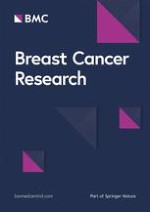 Prospective evaluation of serum tissue inhibitor of metalloproteinase 1 and carbonic anhydrase IX in correlation to circulating tumor cells in patients with metastatic breast cancer
Zeitschrift:
Autoren:

Volkmar Müller, Sabine Riethdorf, Brigitte Rack, Wolfgang Janni, Peter A Fasching, Erich Solomayer, Bahriye Aktas, Sabine Kasimir-Bauer, Julia Zeitz, Klaus Pantel, Tanja Fehm, the DETECT study group
Wichtige Hinweise
Electronic supplementary material
The online version of this article (doi:
10.​1186/​bcr2916
) contains supplementary material, which is available to authorized users.
Volkmar Müller, Sabine Riethdorf contributed equally to this work.
Competing interests
Wolfgang Janni, Brigitte Rack and Klaus Pantel have received educational grants from Veridex. Tanja Fehm has received unrestriceted research support from Adnagen. The other authors have no relevant competing interest to declare.
Authors' contributions
VM and TF participated in the conception and design of the study on TIMP-1 and CAIX and drafted the paper; all authors participated in the acquisition of data and patient recruitment as well as in conception of the DETECT study, analysis and interpretation of data, revising the paper critically for important intellectual content and gave final approval of the version submitted. All authors read and approved the final manuscript.
Abstract
Introduction
Circulating tumor cells (CTCs) reflect aggressive tumor behavior by hematogenous tumor cell dissemination. The tissue inhibitor of metalloproteinase 1 (TIMP-1) plays a role in tissue invasion and is also involved in angiogenesis, abrogation of apoptosis and in chemoresistance. Carbonic anhydrase IX (CAIX) is a metalloenzyme involved in cell adhesion, growth and survival of tumor cells. The aim of the study was to investigate whether serum concentrations of TIMP-1 and CAIX are associated with the detection of CTC in metastatic breast cancer.
Methods
Blood was obtained in a prospective multicenter setting from 253 patients with metastatic breast cancer at the time of disease progression. Serum TIMP-1 and CAIX were determined using commercial ELISA-kits (Oncogene Science). CTC were detected with the CellSearch™ system (Veridex).
Results
Five or more CTCs were detected in 122 patients out of 245 evaluable patients (49.8%). Out of 253 metastatic patients 70 (28%) had serum TIMP-1 levels above 454 ng/mL. Serum CAIX was elevated above 506 ng/mL in 90 (35%) patients. Both serum markers had prognostic significance. Median progression free survival (PFS) was 7.2 months with elevated TIMP-1 vs. 11.4 months with non-elevated levels (p < 0.01). OS was 11.5 vs. 19.1 months (p < 0.01). Median PFS was 7.5 months with elevated CAIX vs. 11.7 months with non-elevated levels (p < 0.01), overall survival (OS) was 13.4 months vs. 19.1 months (p < 0.01). In patients with five or more CTCs, serum levels were above the cut-off for CAIX in 47% vs. 25% in those with less than five CTCs (p = 0.01). For TIMP-1, 37% patients with five or more CTCs had elevated serum levels and 17% of patients with less than five CTCs (p = 0.01). Including TIMP-1, CAIX, CTC and established prognostic factors in the multivariate analysis, the presence of CTCs, the therapy line and elevated CAIX remained independent predictors of OS.
Conclusions
Elevated serum levels of the invasion markers TIMP-1 and CAIX in metastatic breast cancer are prognostic markers and are associated with the presence of CTCs. Whether increased secretion of TIMP-1 and/or CAIX might directly contribute to tumor cell dissemination remains to be elucidated in further investigations.