01.12.2017 | Research article | Ausgabe 1/2017 Open Access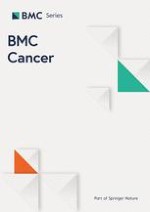 Protein kinase C inhibitor Gö6976 but not Gö6983 induces the reversion of E- to N-cadherin switch and metastatic phenotype in melanoma: identification of the role of protein kinase D1
Zeitschrift:
Autoren:

Messaouda Merzoug-Larabi, Caroline Spasojevic, Marianne Eymard, Caroline Hugonin, Christian Auclair, Manale Karam
Wichtige Hinweise
Electronic supplementary material
The online version of this article (doi:
10.​1186/​s12885-016-3007-5
) contains supplementary material, which is available to authorized users.
Abbreviations
CAMK
Calcium/calmodulin-dependent kinase
EMT
Epithelial-mesenchymal transition
ERK
Extracellular signal-regulated kinase
MET
Mesenchymal-epithelial transition
Background
In the present study, we analyzed whether PKC inhibitors Gö6976 and Gö6983 would revert the E- to N- cadherin switch and metastatic phenotype in aggressive melanoma cells.
Methods
Antibodies and materials
The primary antibodies used were rabbit anti-E-cadherin, rabbit anti-N-cadherin, mouse anti-β-catenin and rabbit anti-PKD1 (1/500 for western blot and 1/50 for immunofluorescence; Santa Cruz Biotechnology, Santa Cruz, CA), goat anti-actin (1/200 for western blot; Santa Cruz Biotechnology, Santa Cruz, CA) and rabbit anti-cyclin D1 (1/1000 for western blot, Cell signaling technology, Denvers, MA). Horseradish peroxidase-conjugated secondary antibodies used were goat anti-rabbit IgG (1/2000; Dako, Glostrup, Denmark), rabbit anti-goat IgG (1/2000 Santa Cruz Biotechnology) and goat anti-mouse IgG (1/5000; Rockland, Gilbertsville, PA). The Alexa Fluor-conjugated secondary antibodies were Alexa-Fluor-594-conjugated donkey anti-rabbit IgG, Alexa-Fluor-488-conjugated donkey anti-mouse IgG conjugated (1/200; Invitrogen, Cergy-Pontoise, France). Actin was stained with Alexa-Fluor-488-conjugated phalloidin (1/50; Invitrogen, Cergy-Pontoise, France). The nucleus was stained with 4',6-diamidino-2-phenylindole DAPI (1/50000; Invitrogen, Cergy-Pontoise, France). Gö6976 and Gö6983 were purchased from Calbiochem (Darmstadt, Germany). All other biochemicals were from Sigma-Aldrich (St. Louis, MO).
Cell culture
Primary (T1 and I5), their respective lymph-node metastasis (G1 and M2), and the cutaneous metastasis (M4T2) melanoma cell lines were obtained from 70-77-year old patients from Institut Gustave Roussy (Villejuif, France), as previously described [
30
]. These cells were cultured in RPMI medium supplemented with 10% fetal bovine serum (FBS), 100 units/mL penicillin and 100 μg/mL streptomycin (P/S), and 1 mM sodium pyruvate (complete medium).
Stable shRNA lentiviral transduction
For stable PKD1 depletion, cells were infected with human PKCμ shRNA (sc-36245-v) or control shRNA (sc-108080) lentiviral transduction particles from Santa Cruz Biotechnology (Santa Cruz, CA) according to the manufacturer's protocol. Stable clones expressing the shRNA were selected with 2 μg/mL puromycin.
Western blot analysis
Cells were lysed for 20 min at 4 °C in 50 mM Tris–HCl pH 7.4, 150 mM NaCl, 1 mM EDTA, 100 mM sodium fluoride, 10 mM tetra-sodium diphosphate decahydrate, 2 mM sodium orthovanadate, 1 mM phenylmethylsulfonylfluoride, 10 μg/mL aprotinin and 1% Nonidet P-40. Lysates were clarified by centrifugation at 14,000 rpm for 10 min at 4 °C. 30–80 μg of total protein extracts were separated by SDS-PAGE and transferred onto nitrocellulose membranes. These were incubated with the specific antibodies overnight at 4 °C and revealed by enhanced chemiluminescence (Amersham, GE Healthcare, UK).
MTT assay
Cells were seeded in quadruplicates into 96-well plates at a density of 1,000 cells per well in complete medium and incubated for 1 to 6 days at 37 °C, 5% CO 2. On the day of analysis, cells were incubated with 0.5 mg/ml MTT for 2 h at 37 °C. Then, 10% SDS were added to each well and incubated for 16 h at 37 °C. Absorbance value (OD) was measured at 570 nm.
Colony formation assay
Cells were resuspended in 2.5 mL of methylcellulose (0.8%) prepared in complete medium containing vehicle control (DMSO), 1 μM Gö6976 or 1 μM Gö6983. Cells were then plated in uncoated 35 mm culture dishes and incubated at 37 °C in a humidified atmosphere at 5% CO2 for 3 weeks. Colonies were then photographed and counted under a light microscope using a grid.
Wound healing assay
The scratch wound was created using 200 μL sterile pipette tip in a confluent cell culture pre-treated for 24 h with DMSO, 1 μM Gö6976 or 1 μM Gö6983. The scratch area was washed and cells were re-incubated with the same inhibitors. The images were taken at 0, 16 and 24 h. The lines show the area where the scratch wound was created.
Transwell migration assay
24-well transwell chambers (Corning Costar, Corning, NY, USA) with 8.0-μm pore size polycarbonate membrane were used. 100,000 cells were plated in duplicates in 200 μL serum-free RPMI medium in the upper well. Complete medium was added to the lower well. After 24 h of incubation, cells that migrated through the membrane to the lower well were all counted by light microscopy.
Immunofluorescence
Cells cultured on cover glass slides (Menzel-Gläser; Braunschweig, Germany) were fixed and permeabilized with Cytofix-Cytoperm solution (BD Biosciences, Le Pont de Claix, France) for 10 min at room temperature. Cells were washed with 2% glycine solution, then blocked with blocking buffer containing 2% FBS and 0.5% saponin in PBS for 30 min at 37 °C. Cells were incubated with the primary antibodies, then with Alexa Fluor-conjugated secondary antibodies or phalloidin for 1 h at room temperature each. DAPI was added for 2–3 min at room temperature. The slides were mounted with Mowiol solution (Southern Biotech, Birmingham, AL). Immunofluorescence images were acquired with inverted epifluorescence or confocal microscopes and analyzed with IMSTAR or LEICA softwares, respectively.
Enzyme-linked immunosorbent assay (ELISA)
Soluble E-cadherin was detected in conditioned media from shRNA lentiviral transduced cells with sandwich ELISA (Human E-cadherin EIA Kit, Takara Bio, Osaka, Japan), according to the manufacturer's specifications. Briefly, samples were added, in triplicates, to the wells and then incubated in the dark for 2 h at 37 °C. The wells were washed 3 times with TBS containing 0.1% Tween-20 and 5 mM CaCl 2. The antibody conjugated to peroxidase and specific to human E-cadherin was added for 1 h at 37 °C, the wells were washed 4 times and then the substrate solution (TMBZ) was added for 15 min at room temperature before the reaction was stopped with 1 N sulfuric acid. The plate was read at 450 nm.
Results
Discussion
Given the differential effect of the PKC inhibitors Gö6976 and Gö6983, our present data suggest that specific isoenzyme(s) targeted by Gö6976 but not by Gö6983 would be involved in the reversion of the E- to N-cadherin switch and metastatic phenotype in melanoma.
Conclusions
The cPKC/PKCμ inhibitor Gö6976 reverses the E- to N-cadherin switch and as a consequence induces profound morphological, molecular and cellular changes that revert the mesenchymal phenotype and metastatic potential of aggressive melanoma cells. On the other hand, the cPKC inhibitor Gö6983 doesn't show any significant effect on this cadherin switch. The comparison of the target spectrum of these two PKC inhibitors indicates that these observations are not the consequence of the inhibition of cPKCs, but identifies a novel serine/threonine kinase, i.e. PKCμ isoform (also known as PKD1), whose specific inhibition by shRNAs induces E-cadherin expression and reverses the metastatic phenotype in all metastatic melanoma cell lines tested. Noteworthy, in one of these cell lines, specific inhibition of PKD1 alone induces the expression of E-cadherin molecules which are found to be cleaved, probably due to the effect of proteases secreted by these cells. However, the PKD1/cPKC inhibitor Gö6976 induces the expression of full length E-cadherin in this same cell line. Thus, in some melanoma cells, depending on their protease expression profile, a combinatory inhibition of PKD1 and cPKC might be considered for a more effective reversion of the E- to N-cadherin switch.
Despite the recent advances in metastatic melanoma treatments including molecular targeted and immune therapies, many patients develop resistance or do not respond to these therapeutic approaches. Since the E- to N-cadherin switch plays a critical role in the response to these therapies and in melanoma progression and based on our data from the present study, we propose the inhibition of PKD1 as a novel attractive approach for the treatment of metastatic melanoma that should be further tested in pre-clinical studies either alone or in combination with other therapies depending of the disease context.
Acknowledgments
We would like to thank Dr Manish Singh for his technical support in the use of the inverted epifluorescence microscope.
Funding
MM, CS, CH and MK (partially) were funded by OSEO innovation "APAS-IPK" that also financially supported this study. ME was funded by the French Ministry of Higher Education and Research. MK was also partially funded by Qatar foundation.
Availability of data and materials
All relevant data or materials are provided in the manuscript or as "Additional files". Any additional dataset supporting the results reported in this article is available from the corresponding author on reasonable request.
Authors' contributions
MML carried out the anchorage-independent growth and migration studies on M4T2 cells, compared the expression of PKD1, E-cadherin and N-cadherin in the different melanoma cell lines, analyzed E-cadherin expression in PKD1-depleted cells and participated in drafting the manuscript. CS carried out the cadherin switch analysis following treatment with PKC inhibitors as well as all immunofluorescence studies, and participated in drafting the manuscript. ME participated in the analysis of PKD1 expression in stable clones generated by lentiviral shRNA transduction and performed the anchorage-independent growth and migration assays in M2 cells. CH carried out the ELISA assay and helped in confocal microscopy. CA participated in the design of the study and data analysis. MK conceived, designed and coordinated the study, generated the lentiviral shRNA transduced stable clones and helped to draft the manuscript. All authors read and approved the final manuscript.
Competing interests
The authors declare that they have no competing interests in this section.
Consent for publication
Not applicable.
Ethics approval and consent to participate
Not applicable.
Open Access
This article is distributed under the terms of the Creative Commons Attribution 4.0 International License (
http://​creativecommons.​org/​licenses/​by/​4.​0/​
), which permits unrestricted use, distribution, and reproduction in any medium, provided you give appropriate credit to the original author(s) and the source, provide a link to the Creative Commons license, and indicate if changes were made. The Creative Commons Public Domain Dedication waiver (
http://​creativecommons.​org/​publicdomain/​zero/​1.​0/​
) applies to the data made available in this article, unless otherwise stated.