05.07.2018 | Original Article | Ausgabe 10/2018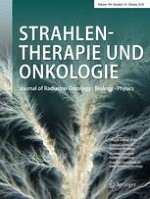 Radiation-induced acute toxicities after image-guided intensity-modulated radiotherapy versus three-dimensional conformal radiotherapy for patients with spinal metastases (IRON-1 trial)
First results of a randomized controlled trial
Zeitschrift:
Autoren:

MD Tanja Sprave, MD Vivek Verma, MD Robert Förster, MD Ingmar Schlampp, PhD Thomas Bruckner, MD Tilman Bostel, MD Stefan Ezechiel Welte, Eric Tonndorf-Martini, MD Rami El Shafie, MD PhD Nils Henrik Nicolay, MD PhD Jürgen Debus, MD PhD Harald Rief
Wichtige Hinweise
Availability of data and materials
The data used in this analysis are from publications available in the public domain.
Authors' contributions
HR and JD developed and planned this trial. KH and TB are responsible for statistical considerations/basis of the analysis. TS, VV, HR, TB, NN, SW, RF, RE, and IS performed the examinations and RT supervisions. HR and TS conducted the data collection. ET defined the radiation plans. The corresponding author (HR) had full access to the entire data of the study and had the final responsibility regarding the decision to submit for publication. All authors read and approved the final manuscript.
Abstract
Purpose
Radiation therapy (RT) provides an important treatment approach in the palliative care of vertebral metastases, but radiation-induced toxicities in patients with advanced disease and low performance status can have substantial implications for quality of life. Herein, we prospectively compared toxicity profiles of intensity-modulated radiotherapy (IMRT) vs. conventional three-dimensional conformal radiotherapy (3DCRT).
Methods
This was a prospective randomized monocentric explorative pilot trial to compare radiation-induced toxicity between IMRT and 3DCRT for patients with spinal metastases. A total of 60 patients were randomized between November 2016 and May 2017. In both cohorts, RT was delivered in 10 fractions of 3 Gy each. The primary endpoint was radiation-induced toxicity at 3 months.
Results
Median follow-up was 4.3 months. Two patients suffered from grade 3 acute toxicities in the IMRT arm, along with 1 patient in the 3DCRT group. At 12 weeks after treatment (t2), 1 patient reported grade 3 toxicity in the IMRT arm vs. 4 patients in the 3DCRT group. No grade 4 or 5 adverse events occurred in either group. In the IMRT arm, the most common side effects by the end of irradiation (t1) were grade 1–2 xerostomia and nausea in 8 patients each (29.6%), and dyspnea in 7 patients (25.9%). In the 3DCRT group, the most frequent adverse events (t1) were similar: grade 1–2 xerostomia (
n
 = 10, 35.7%), esophagitis (
n
 = 10, 35.8%), nausea (
n
 = 10, 35.8%), and dyspnea (
n
 = 5, 17.9%).
Conclusion
This is the first randomized trial to evaluate radiation-induced toxicities after IMRT versus 3DCRT in patients with vertebral metastases. This trial demonstrated an additional improvement for IMRT in terms of acute side effects, although longer follow-up is required to further ascertain other endpoints.