22.02.2018 | Review | Ausgabe 1/2018 Open Access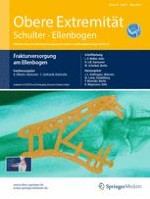 Rehabilitation following rotator cuff repair
A work of the Commission Rehabilitation of the German Society of Shoulder and Elbow Surgery e. V. (DVSE) in collaboration with the German Association for Physiotherapy (ZVK) e. V., the Association Physical Therapy, Association for Physical Professions (VPT) e. V. and the Section Rehabilitation—Physical Therapy of the German Society for Orthopaedics and Trauma e. V. (DGOU)
Zeitschrift:
Autoren:

Dr. Christian Jung, Lena Tepohl, Reina Tholen, Knut Beitzel, Stefan Buchmann, Thomas Gottfried, Casper Grim, Bettina Mauch, Gert Krischak, Hans Ortmann, Christian Schoch, Frieder Mauch
Wichtige Hinweise
This is an English translation of the publication
Rehabilitation nach Rotatorenmanschettenrekonstruktion.
Eine Arbeit der Kommission Rehabilitation der Deutschen Vereinigung für Schulter und Ellenbogenchirurgie e.
V. (DVSE) in Zusammenarbeit mit dem Deutschen Verband für Physiotherapie (ZVK) e.
V., dem Verband Physikalische Therapie, Vereinigung für die physiotherapeutischen Berufe (VPT) e.
V. und der Sektion Rehabilitation—Physikalische Therapie der Deutschen Gesellschaft für Orthopädie und Unfallchirurgie e.
V. (DGOU)
Obere Extremität 2016, 11:16–31 DOI
https://​doi.​org/​10.​1007/​s11678-015-0346-9
.
Abstract
Background
Tears and lesions of the rotator cuff are a frequent cause of shoulder pain and disability. Surgical repair of the rotator cuff is a valuable procedure to improve shoulder function and decrease pain. However, there is no consensus concerning the rehabilitation protocol following surgery.
Objectives
To review and evaluate current rehabilitation contents and protocols after rotator cuff repair by reviewing the existing scientific literature and providing an overview of the clinical practice of selected German Society of Shoulder and Elbow Surgery e. V. (DVSE) shoulder experts.
Materials and methods
A literature search for the years 2004–2014 was conducted in relevant databases and bibliographies including the Guidelines International Network, National Guidelines, PubMed, Cochrane Central
Register of Controlled Trials, Cochrane Database of Systematic Reviews, and the Physiotherapy Evidence Database. In addition, 63 DVSE experts were contacted via online questionnaire.
Results
A total of 17 studies, four reviews and one guideline fulfilled the inclusion criteria. Based on these results and the obtained expert opinions, a four-phase rehabilitation protocol could be developed.