01.12.2012 | Research | Ausgabe 1/2012 Open Access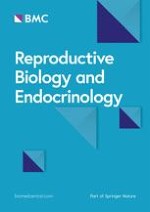 Resveratrol promotes expression of SIRT1 and StAR in rat ovarian granulosa cells: an implicative role of SIRT1 in the ovary
Zeitschrift:
Autoren:

Yoshihiro Morita, Osamu Wada-Hiraike, Tetsu Yano, Akira Shirane, Mana Hirano, Haruko Hiraike, Satoshi Koyama, Hajime Oishi, Osamu Yoshino, Yuichiro Miyamoto, Kenbun Sone, Katsutoshi Oda, Shunsuke Nakagawa, Kazuyoshi Tsutsui, Yuji Taketani
Wichtige Hinweise
Electronic supplementary material
The online version of this article (doi:
10.​1186/​1477-7827-10-14
) contains supplementary material, which is available to authorized users.
Competing interests
The authors declare that they have no competing interests.
Authors' contributions
YM carried out all of the experiments. AS, MH, HH, YM, and KS participated in the immunohistochemistry, real time PCR, Western blot, and hormonal quantification. OY helped to collect and purify rat GCs. SK, MH, and HO helped to collect human luteinized GCs from follicular aspirates. OW-H has been involved in acquisition of data, drafting the manuscript, and revising it critically for important intellectual content. KO, SN, and TY have made substantial contributions to conception and design, analysis and interpretation of data. KT and YT have given final approval of the version to be submitted. All authors read and approved the final manuscript.
Abstract
Background
Resveratrol is a natural polyphenolic compound known for its beneficial effects on energy homeostasis, and it also has multiple properties, including anti-oxidant, anti-inflammatory, and anti-tumor activities. Recently, silent information regulator genes (Sirtuins) have been identified as targets of resveratrol. Sirtuin 1 (SIRT1), originally found as an NAD+-dependent histone deacetylase, is a principal modulator of pathways downstream of calorie restriction, and the activation of SIRT1 ameliorates glucose homeostasis and insulin sensitivity. To date, the presence and physiological role of SIRT1 in the ovary are not known. Here we found that SIRT1 was localized in granulosa cells of the human ovary.
Methods
The physiological roles of resveratrol and SIRT1 in the ovary were analyzed. Immunohistochemistry was performed to localize the SIRT1 expression. SIRT1 protein expression of cultured cells and luteinized human granulosa cells was investigated by Western blot. Rat granulosa cells were obtained from diethylstilbestrol treated rats. The cells were treated with increasing doses of resveratrol, and subsequently harvested to determine mRNA levels and protein levels. Cell viability was tested by MTS assay. Cellular apoptosis was analyzed by caspase 3/7 activity test and Hoechst 33342 staining.
Results
SIRT1 protein was expressed in the human ovarian tissues and human luteinized granulosa cells. We demonstrated that resveratrol exhibited a potent concentration-dependent inhibition of rat granulosa cells viability. However, resveratrol-induced inhibition of rat granulosa cells viability is independent of apoptosis signal. Resveratrol increased mRNA levels of SIRT1, LH receptor, StAR, and P450 aromatase, while mRNA levels of FSH receptor remained unchanged. Western blot analysis was consistent with the results of quantitative real-time RT-PCR assay. In addition, progesterone secretion was induced by the treatment of resveratrol.
Conclusions
These results suggest a novel mechanism that resveratrol could enhance progesterone secretion and expression of luteinization-related genes in the ovary, and thus provide important implications to understand the mechanism of luteal phase deficiency.