01.12.2015 | Research article | Ausgabe 1/2015 Open Access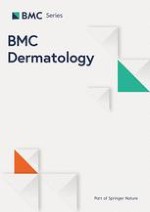 Role models in a preventive program for hand eczema among healthcare workers: a qualitative exploration of their main tasks and associated barriers and facilitators
Zeitschrift:
Autoren:

Anne M Bruinewoud, Esther WC van der Meer, Joost WJ van der Gulden, Johannes R Anema, Cécile RL Boot
Wichtige Hinweise
Conflict of interest
No conflict of interest has been declared by the authors. This study is conducted within the Hands4U study, which was granted by the Netherlands Organisation for Health Research and Development (ZONMW).
Authors contributions
All authors contributed to the writing of this paper. All authors read and approved the final manuscript. AMB is the principle researcher. EWCM collected the data. Together with EWCM and CRLB, AMB was responsible for the coding of the interviews and the categorization in themes. EWCM, JWJ, JRA, and CRLB supervised the study.
Abstract
Background
Role models often play a role when implementing guidelines in healthcare. However, little is known about how role models perform their respective roles, or about which factors may hamper or enhance their functioning. The aim of the present study was therefore to investigate how role models perform there role as a part of a multifaceted implementation strategy on the prevention of hand eczema, and to identify barriers and facilitators for the performing of their role.
Methods
The role models were selected to become a role model and received a role model training. All role models worked at a hospital. In total, 19 role models, were interviewed. A topic list was used focussing on how the role models performed their role and what they experienced to be facilitators and barriers for their role. After coding the interviews, the codes were divided into themes.
Results
This study shows that the main tasks perceived by the role models were to raise awareness, to transfer information, to interact with colleagues about hand eczema, to provide material, and to perform coordinating tasks. Barriers and facilitators were whether the role suited the participant, affinity with the topic, and risk perception.
Conclusions
Most role models performed only the tasks they learned during their training. They mentioned a wide range of barriers and facilitators for the performing of their role. To enhance the functioning of the role models, a suggestion would be to select role models by taking into account prior coaching experience.