01.12.2014 | Research | Ausgabe 1/2014 Open Access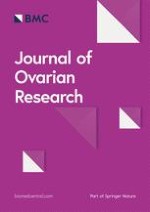 Serum HE4, CA125, YKL-40, bcl-2, cathepsin-L and prediction optimal debulking surgery, response to chemotherapy in ovarian cancer
Zeitschrift:
Autoren:

Anita Monika Chudecka-Głaz, Aneta Alicja Cymbaluk-Płoska, Janusz Leszek Menkiszak, Agnieszka Monika Sompolska-Rzechuła, Aleksandra Izabela Tołoczko-Grabarek, Izabella Anna Rzepka-Górska
Wichtige Hinweise
Electronic supplementary material
The online version of this article (doi:
10.​1186/​1757-2215-7-62
) contains supplementary material, which is available to authorized users.
Competing interests
The authors declare that they have no competing interests.
Authors' contributions
ACG have made substantial contributions to conception and design, planned and ran the experiments, collected data, performed analysis and interpretation of the results, review the literature and wrote the manuscript. ACP have contributed in collected data. JM have contributed in literature review. ASR supervised statistical analysis. ATG worked as pathologist. IRG have given final approval of the version to be published. All authors read and approved the final manuscript.
Abstract
Background
The most important prognostic factor in the ovarian cancer is optimal cytoreduction. The neoadjuvant chemotherapy, an only optional method of treatment in this case and is still the subject of debate. The object of this study was to evaluate the usefulness of markers: CA 125, HE4, YKL-40 and bcl-2 as well as cathepsin L in predicting optimal cytoreduction and response to chemotherapy.
Methods
Sera were secured preoperatively. The division into groups was performed retrospectively depending on the method of treatment (surgery vs neoadjuvant chemotherapy) as well as on response to chemotherapy (sensitive vs resistant vs refractory). Comparisons were made between groups, and the diagnostic usefulness of tested proteins was examined.
Results
We found that statistically significant differences between primary operated patients and patients undergoing neoadjuvant chemotherapy were applicable only to the tumour markers (CA125 1206.79 vs 2432.38, p = 0.000191; HE4 78.87 vs 602.45, p = 0.000004; YKL-40 108.13 vs 203.96, p = 0.003991). Cathepsin-L and Bcl-2 were statistically insignificant. The cut-off point values were determined for the CA 125 (345 mIU/ml), HE4 (218.43 pmol/L) and YKL-40 (140.9 ng/ml). The sensitivity, specificity, PPV and NPV were as follows: CA125 (83.3%; 75%; 80.6%; 78.3%), HE4 (86.6%; 91.3%; 92.9%; 84%) and YKL-40 (75%; 83.3%; 84%; 74.1%).
Conclusion
Among the tested proteins the HE4 marker appears to be helpful in forecasting of optimal cytoreduction and possibly also of the prediction of response to platinum analogues used in first-line treatment of ovarian cancer.