01.12.2010 | 2010 SSAT Poster Presentation | Ausgabe 12/2010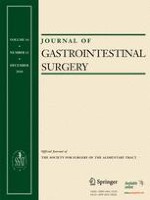 Single-Incision Versus Hand-Assisted Laparoscopic Colectomy: A Case-Matched Series
Zeitschrift:
Autoren:

Dhruvil P. Gandhi, Madhu Ragupathi, Chirag B. Patel, Diego I. Ramos-Valadez, T. Bartley Pickron, Eric M. Haas
Wichtige Hinweise
This work was presented in poster format at the May 2010 SSAT Meeting during Digestive Disease Week in New Orleans, Louisiana.
Abstract
Background
Single-incision laparoscopic colorectal surgery is an emerging modality. We incorporated this technique as an alternative to hand-assisted laparoscopic surgery. We investigated intraoperative and short-term outcomes following single-incision laparoscopic colectomy compared with hand-assisted laparoscopic colectomy.
Methods
Between July and November 2009, single-incision colorectal procedures were performed and matched to hand-assisted procedures based on five criteria: gender, age, body mass index, pathology, and type of procedure. Demographic, intraoperative, and postoperative data were assessed.
Results
Twenty-four pairs of patients with a mean age of 55.1 years and mean body mass index of 28.5 kg/m
2
were matched. The majority of cases (79.2%) were right hemicolectomies. The ranges of incision length were 2–6 cm (single incision) and 5–11 cm (hand-assisted). Mean operating time was significantly longer for single-incision procedures (143.2 min) compared with hand-assisted procedures (112.8 min),
p
 < 0.0004. There was no significant difference in the groups regarding conversions or intraoperative complications (
p
 < 0.083 and
p
 < 1.0, respectively). Mean length of stay for the single-incision approach (2.7 days) was significantly shorter compared with the hand-assisted approach (3.3 days),
p
 < 0.02.
Conclusion
Single-incision laparoscopic colectomy is a safe and feasible alternative to hand-assisted laparoscopic surgery. Although the technique required longer operative time, it resulted in smaller incision size and significantly shorter length of hospitalization.