01.12.2019 | Research | Ausgabe 1/2019 Open Access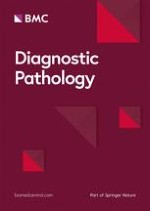 SNW1 is a prognostic biomarker in prostate cancer
Zeitschrift:
Autoren:

Doris Höflmayer, Carla Willich, Claudia Hube-Magg, Ronald Simon, Dagmar Lang, Emily Neubauer, Frank Jacobsen, Andrea Hinsch, Andreas M. Luebke, Marie Christina Tsourlakis, Hartwig Huland, Markus Graefen, Alexander Haese, Hans Heinzer, Sarah Minner, Franziska Büscheck, Guido Sauter, Thorsten Schlomm, Stefan Steurer, Till S. Clauditz, Eike Burandt, Waldemar Wilczak, Christian Bernreuther
Wichtige Hinweise
Electronic supplementary material
Doris Höflmayer and Carla Willich contributed equally to this work.
Abstract
Background
SNW1 is a nuclear receptor co-activator involved in splicing and transcription control, including androgen receptor signaling. Overexpression of SNW1 has been linked to adverse prognosis in different cancer types, but studies on the role of SNW1 in prostate cancer are lacking.
Methods
Using immunohistochemistry, we analyzed SNW1 expression in 10,310 prostate cancers in a tissue microarray (TMA) with attached clinical and molecular data.
Results
The comparison with normal prostate tissue revealed an up regulation of SNW1 in a subset of cancer samples. SNW1 staining was considered weak in 31.5%, moderate in 37.7% and strong in 14% of cancers. Strong SNW1 expression was markedly more frequent in prostate cancers harboring the
TMPRSS2:ERG
fusion (24%) than in ERG negative cancers (7%,
p
 < 0.0001). Significant associations with Gleason grade, stage, nodal status and early biochemical recurrence were observed in the ERG negative and positive subset. Multivariable modeling revealed that the prognostic value of SNW1 up regulation was independent from the established preoperative histopathological and clinical parameters.
Conclusion
These results demonstrate that SNW1 overexpression is an independent prognostic marker in prostate cancer with potential clinical utility.