01.12.2019 | Study protocol | Ausgabe 1/2019 Open Access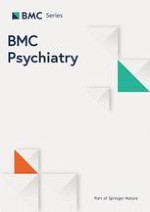 Testing the efficacy of INtegral Cognitive REMediation (INCREM) in major depressive disorder: study protocol for a randomized clinical trial
Zeitschrift:
Autoren:

Muriel Vicent-Gil, Beatriz Raventós, Eduardo D. Marín-Martínez, Sara González-Simarro, Anabel Martínez-Arán, Caterina del Mar Bonnin, Joan Trujols, Josefina Pérez-Blanco, Javier de Diego-Adeliño, Dolors Puigdemont, Maria Serra-Blasco, Narcís Cardoner, Maria J. Portella
Abstract
Background
Given the limitation of pharmacological treatments to treat cognitive symptoms in patients with Major Depressive Disorder (MDD), cognitive remediation programs has been proposed as a possible procognitive intervention but findings are not conclusive. This study investigates the efficacy of an INtegral Cognitive REMediation (INCREM) that includes a combination of a Functional Remediation (FR) strategy plus a Computerized Cognitive Training (CCT) in order to improve not only cognitive performance but also the psychosocial functioning and the quality of life.
Methods
A single blind randomized controlled clinical trial in 81 patients with a diagnosis of MDD in clinical remission or in partial remission. Participants will be randomized to one of three conditions: INCREM (FR + CCT), Psychoeducation plus online games and Treatment As Usual (TAU). Intervention will consist in 12 group sessions, of approximately 110 min once a week. The primary outcome measure will be % of change in psychosocial functioning after treatment measured by the Functional Assessment Short Test (FAST); additionally, number of sick leaves and daily activities will also be recorded as pragmatic outcomes.
Discussion
To our knowledge, this is the first randomized controlled clinical trial using a combination of two different approaches (FR + CCT) to treat the present cognitive deficits and to promote their improvements into a better psychosocial functioning.
Trial registration
Clinical Trials
NCT03624621
. Date registered 10th of August 2018 and last updated 24th August 2018.