01.12.2016 | Research | Ausgabe 1/2016 Open Access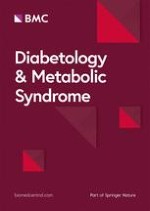 The C1431T polymorphism of peroxisome proliferator activated receptor γ (PPARγ) is associated with low risk of diabetes in a Pakistani cohort
Zeitschrift:
Autoren:

Huma Butt, Shabana, Shahida Hasnain
Wichtige Hinweise
Huma Butt and Shabana contributed equally to this work
Abstract
Background
Diabetes is a socioeconomic burden in Pakistan. International diabetes federation reported 6.9 million cases of diabetes and 87,548 deaths due to diabetes in Pakistan in 2014. Peroxisome proliferators-activated receptors are transcription factors, regulating several physiological processes.
Aim
The aim of the current study was to determine the prevalence of silent variant C1431T in exon 6 of PPAR-y and analyze its effect on various anthropometric and biochemical parameters in a Pakistani cohort.
Methods
We collected 926 samples, 500 healthy controls (fasting blood sugar <99 mg/dL, random blood sugar <126 mg/dL) and 426 cases with diabetes (fasting blood sugar >99 mg/dL, random blood sugar >126 mg/dL). The genotyping was done by polymerase chain reaction restriction fragment length polymorphism (PCR–RFLP) and serum biochemical parameters were determined by commercially available kits.
Results
The genotyping results by RLFP showed allelic frequency C = 61.2 % and T = 38.8 % in controls while C = 74.5 % and T = 25.5 % in cases (OR 0.536, CI 0.439–0.655,
p
= 8.2 × 10
−10
) and genotypic frequency CC = 38.8 %, CT = 44.7 %, TT = 16.5 % in controls. While CC = 53.6 %, CT = 41.4 %, TT = 5.1 % in cases (OR 0.544, CI 0.408–0.726,
p
= 2.3 × 10
−10
). The rare T allele appeared to be a protective allele i.e., the presence of rare allele lowered the risk of diabetes in the studied cohort. The biochemical and anthropometric parameters were analyzed for any significant association with the SNP showing that C1431T variant has an association with BMI, weight, fasting glucose and LDLC. However, no significant association was found with age, gender, height, HDLC, TC, triglycerides and leptin.
Conclusion
In conclusion, the presence of minor allele lowers the risk of diabetes and the effect may involve modulating certain serum parameters.