01.12.2017 | Research article | Ausgabe 1/2017 Open Access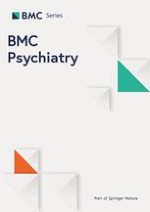 The factor structures and correlates of PTSD in post-conflict Timor-Leste: an analysis of the Harvard Trauma Questionnaire
Zeitschrift:
Autoren:

Alvin Kuowei Tay, Mohammed Mohsin, Susan Rees, Zachary Steel, Natalino Tam, Zelia Soares, Jessica Baker, Derrick Silove
Abbreviations
CFA
Confirmatory factor analysis
DSM
Diagnostic and Statistical Manual
HTQ
Harvard Trauma Questionnaire
ICD
International Classification of Diseases
PTSD
Posttraumatic stress disorder
RMSEA
Root Mean Square Error of Approximation
Background
The aims of our analysis were to 1) assess the factorial structure of PTSD according to the ICD-10, ICD-11, DSM-IV, four-factor Emotional Numbing (DSM-5 consistent) and five-factor Dysphoric-Arousal models, respectively. In so doing, we note that the range of items in the HTQ precludes a direct examination of the DSM-5 criteria, the four-factor Emotional Numbing model tested herein therefore representing the closest approximation to that structure; 2) compare the prevalence of PTSD assignments based on these criteria and by the conventional HTQ cut-off score; and as a measure of concurrent validity 3) examine PTSD case assignments with established correlates of PTSD including sociodemographic characteristics, trauma count (TC), adversity count (AC), an index of severe psychological distress, and functional impairment.
Methods
Sample
The study was conducted between May, 2010 and November, 2011, involving a household survey of all men and women, 18-years and older, residing in two villages in Timor-Leste. The sites were an urban administrative area (
suco
) in Dili, the capital of Timor-Leste, and a rural village located an hour's drive away. We selected these sites for our earlier survey in 2004 because the Timor-Leste National Directorate of Statistics judged the two resident communities as reflecting the broad range of socio-demographic characteristics of the national population as a whole. Each of the two administrative units is defined by contiguous hamlets (aldeias) under the administration of one chief (chefe). Both locations were directly affected by the longstanding resistance war against the Indonesian occupation and by the subsequent episode of internal conflict that occurred in 2006–7. We used GPS coordinates and aerial maps produced by the Office of Statistics to locate all dwellings in the two locations.
The study was approved by the Human Research Ethics Committee of the University of New South Wales, the Ministry of Health of Timor-Leste, and the chiefs of each village. Participants provided written or witnessed verbal consent.
Measures
We undertook extensive qualitative and quantitative research, serially field testing and refining mental health measures (with reference to a committee including expatriate and Timorese members) to ensure that the mental health constructs we sought to examine were recognized and regarded as commonly experienced in the community. In the process, we refined items to ensure their cultural, semantic and linguistic appropriateness when translated and applied in Timor-Leste, all interviews being conducted in the lingua franca, Tetum [
28
].
Posttraumatic stress disorder (PTSD) symptoms and psychological distress.
PTSD symptoms were assessed using the relevant section of the HTQ [
2
], comprising 16 items scored on a four-point scale (1 = none, 2 = some of the time, 3 = a lot of the time, 4 = most of the time). The adapted HTQ included an additional symptom of physiological reactivity in response to reminders of the trauma, dividing the original single item into the two DSM-IV criteria which differentiate between psychological and physiological reactions to reminders.
To assess psychological distress, we used the Kessler-10 scale, consisting of 10 items indexing depressive but also anxiety and somatic symptoms, each item scored on a five-point scale (1 = not at all, 2 = a little of the time, 3 = some of the time, 4 = most of the time, 5 = all of the time).
Both the PTSD (based on 4-point Likert scale) and Kessler-10 (K10) scales demonstrated high levels of internal reliability (HTQ PTSD, Cronbach's α = 0.95; K-10, α = 0.92). A convergence study conducted previously amongst a subsample of respondents recruited from the survey, compared the HTQ and K10 with the relevant categories of PTSD and major depressive disorder of the Structured Clinical Interview for the Diagnostic and Statistical Manual IV (SCID) applied in a blinded manner by experienced psychologists [
23
]. There was a sound level of convergence for both indices: Area Under the Curve (AUC) for PTSD 0.82 (95% CI: 0.71–0.94) and for the K10 0.79 (95% CI: 0.67–0.91). An HTQ score of 2.2 provided the best cut-off for PTSD: sensitivity 77.3%, specificity 87.5%, and correct classification 83%. The dichotomized HTQ item pool showed sound reliability (Kuder-Richardson coefficient/KR20 = 0.83). For the K10, the international cut-off score of 30 or more provided the highest level of convergence: sensitivity 92.3%, specificity 66%, and correct classification 71% [
29
]. The lower specificity is likely to reflect the inclusion of anxiety and somatic symptoms in addition to depressive symptoms in the K10.
Exposure to conflict-related traumatic events
We assessed the 23 conflict-related traumatic events (TEs) listed in the HTQ [
2
], modified to the context of Timor-Leste. TEs were assessed for both the Indonesian occupation (1975–1999), and the subsequent period following national independence which included the episode of internal conflict of 2006–07. Items involved traumas directed at the self and others, including losses and separations. Typical items included political imprisonment, assault, torture, witnessing murder, exposure to atrocities, losses/separations of family or close others, and severe deprivation of medical care for self or others. We generated a composite trauma count (TC) by collapsing responses assessed for both historical periods; an item endorsed for one or both historical periods was assigned a score of 1 whereas a score of 0 indicated no exposure to that event for either of the two historical periods.
Ongoing adversities
We applied an inventory of ongoing adversities based on community consultations and refinement of items via an iterative process of piloting and feedback. Items included, amongst others, insufficient food, inadequate finances (for school fees, to meet traditional obligations to family), poor shelter, unemployment, and experiences of ongoing conflict (with spouse, children, extended family, young people, and the wider community). Each item was rated on a five-point scale (1 = not a problem, 2 = a bit of a problem, 3 = moderately serious problem, 4 = a serious problem, 4 = a very serious problem). We applied an adversity count (AC) in the present analysis.
Functional impairment
Functional impairment was assessed using a community-derived index. Prior to the survey, the index was developed based on qualitative data gathered from key informant interviews and two focus groups (comprising men and women 18 to 70 years old) involving chiefs of each village and community members [
30
]. Participants were asked to rate on a five-point scale (1 = not at all, 2 = little, 3 = moderate, 4 = a lot, 5 = often can't do task) the level of difficulty they experienced in undertaking or performing activities related to four specific items/domains including domestic duties, working/studying, taking care of family, and socializing. We created a composite index based on an addition of all endorsed functional domains using dichotomized items (0 = none, 1 = little/moderate/extreme difficulties).
Field personnel training
Eighteen field personnel received two-weeks training followed by 2 months of field testing and piloting of survey measures supervised by expatriate staff. Pairs of interviewers were required to achieve a consistent 100% inter-rater reliability over five interviews on the symptom measures prior to commencing the study. The interviews lasted an hour and were conducted in participants' homes in a semi-structured format in which questions were read verbatim to participants, most of whom had low literacy, with additional clarifications and explanations provided as needed to ensure full comprehension.
Statistical analysis
Confirmatory Factor Analysis (CFA) was conducted based on the ICD-10 and the proposed ICD-11 symptom constellations for PTSD as well as for the DSM-IV, the four factor Emotional Numbing and the Dysphoric-Arousal models which approximated the DSM5 structure.
Results
Discussion
Conclusions
Our study found considerable support for the ICD-10, ICD-11, DSM-IV, four-factor Emotional Numbing (consistent with the DSM-5 formulation of PTSD) and Dysphoric-Arousal PTSD structures in a large conflict-affected population in Timor-Leste. Case assignments using various models showed consistent associations with female gender, trauma exposure, ongoing adversity, severe distress, and functional impairment, providing evidence of concurrent validity of the HTQ symptom measure. Although symptom prevalence estimates varied across classifications, there was adequate agreement in PTSD assignments across the systems. Together, the data suggest that the HTQ represents a robust measure for assessing PTSD symptoms across several models of the disorder, adding to the growing body of evidence supporting the utility of the measure in the transcultural setting.
Acknowledgements
We thank our field personal and the Alola foundation for their support for this project.
Availability of data and materials
All data generated or analysed during this study are included in this published article [and its supplementary information files].
Authors' contributions
SR, DS, ZS conceived and designed the study. SR, DS, ZS gained funding for this study. NT and Z Soares conducted the study. AT, MM, and JB undertook the statistical analysis. AT, MM, SR, ZS, DS, JB drafted the manuscript. All authors read and approved the final manuscript.
Competing interests
The authors declare that they have no competing interests.
Consent for publication
Participants provided consent to publish all data reported in this and other publications arising from the project.
Ethics approval and consent to participate
The study was approved by the Human Research Ethics Committee of the University of New South Wales, the Ministry of Health of Timor-Leste, and the chiefs of each village.
Publisher's Note
Springer Nature remains neutral with regard to jurisdictional claims in published maps and institutional affiliations.
Open Access
This article is distributed under the terms of the Creative Commons Attribution 4.0 International License (
http://​creativecommons.​org/​licenses/​by/​4.​0/​
), which permits unrestricted use, distribution, and reproduction in any medium, provided you give appropriate credit to the original author(s) and the source, provide a link to the Creative Commons license, and indicate if changes were made. The Creative Commons Public Domain Dedication waiver (
http://​creativecommons.​org/​publicdomain/​zero/​1.​0/​
) applies to the data made available in this article, unless otherwise stated.