01.06.2014 | Basic Science | Ausgabe 6/2014 Open Access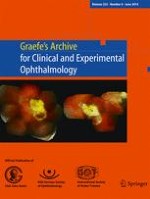 The influence of new beta-adrenolytics nebivolol and carvedilol on intraocular pressure and iris blood flow in rabbits
Autoren:

Dorota Szumny, Adam Szeląg
Abstract
Background
The aim of this study was to assess the influence of propranolol, nebivolol, and carvedilol on intraocular pressure and blood flow in vessels of rabbit's (New Zealand White) eyeball.
Methods
The study was carried out on New Zealand white rabbits. Intraocular pressure was measured with the applanation tonometer Möller–Wedel and Icare; blood flow was measured with Doppler Laser Blood Flow Monitor MBD3.
Results
Following a single administration into a conjunctival sac, all drugs decreased intraocular pressure. Iris blood flow was decreased following administration of propranol, but increased by nebivolol and carvedilol. After single and repeated oral administration of nebivolol and carvedilol an IOP decrease was demonstrated, but with no effect of all applied doses on iris or retina/choroid blood flow.
Conclusion
Studies performed on an animal model indicate that it is possible to reduce the intraocular pressure and increase ocular blood flow in humans, following topical administration of carvedilol and nebivolol. Confirmation of those results in clinical trials may lead to development of a new anti-glaucoma treatment. Further clinical studies of long-term nebivolol and carvedilol are recommended. They are necessary for evaluation of usefulness of those drugs for selected groups of patients, for example those with glaucoma and arterial hypertension.