Erschienen in: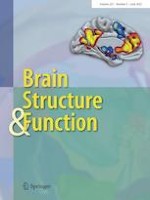 Open Access 26.03.2022 | Original Article
The orbitofrontal cortex of the sheep. Topography, organization, neurochemistry, digital tensor imaging and comparison with the chimpanzee and human
Erschienen in: Brain Structure and Function | Ausgabe 5/2022
Abstract
Areas dedicated to higher brain functions such as the orbitofrontal cortex (OFC) are thought to be unique to hominidae. The OFC is involved in social behavior, reward and punishment encoding and emotional control. Here, we focused on the putative corresponding area in the sheep to assess its homology to the OFC in humans. We used classical histology in five sheep (
Ovis aries
) and four chimpanzees (
Pan troglodytes
) as a six-layered-cortex primate, and Diffusion Tensor Imaging (DTI) in three sheep and five human brains. Nissl's staining exhibited a certain alteration in cortical lamination since no layer IV was found in the sheep. A reduction of the total cortical thickness was also evident together with a reduction of the prevalence of layer one and an increased layer two on the total thickness. Tractography of the sheep OFC, on the other hand, revealed similarities both with human tracts and those described in the literature, as well as a higher number of cortico-cortical fibers connecting the OFC with the visual areas in the right hemisphere. Our results evidenced the presence of the basic components necessary for complex abstract thought in the sheep and a pronounced laterality, often associated with greater efficiency of a certain function, suggested an evolutionary adaptation of this prey species.
Publisher's Note
Springer Nature remains neutral with regard to jurisdictional claims in published maps and institutional affiliations.
BCA
Department of comparative biomedicine and food science
fNIRS
Functional near infrared spectroscopy
ifof
Inferior fronto-occipital fasciculus
MD
Nucleus medialis dorsalis of the thalamus
MDmc
Medial (magnocellular) nucleus of the mediodorsal thalamus
MGH
Massachusetts general hospital
NIDCR
National institute of dental and craniofacial research
NIMH
National institute of mental health
NINDs
National institute of neurological disorders and stroke
SII
Secondary somatosensory area
Introduction
Materials and methods
Results
In the current study, we did not find major differences between the brains of the same species. Sheep OFCs were topographically and microscopically similar and consistent among specimens and the connections shown by tractography were analogous in location but not in quantity. Chimpanzee OFCs had also uniform characteristics and no main changes were found, as for other areas in previous works (Cozzi et al.
2017
; Graïc et al.
2020
). The tracts from human brains reflected nearly the same pattern among individuals.
In each section, the sheep will be first described, as it was the object of this research, and then compared to the chimpanzee.
Histology with Nissl stain
In the sheep, layer IV was absent in all the sampled tissue (Fig.
3
a) and we did not observe any rostro-caudal development. Layers I, III, V and VI were relatively equally distributed (range 20.2 – 26.2%) except for layer II (range 9.2 – 9.9%).
×
In the chimpanzee, on the other hand, a layer IV was present (Fig.
3
b) and we found percentages of similar thickness for layers III, V and VI, whereas layer II was reduced by 40% and layer I more than doubled (Table
3
).
Table 3
Thickness of the total cortical column and single layers of the species analyzed
Sheep

Chimpanzee

Mean

SD

%

Mean

SD

%

Total

1696.54

164.54

2479.46

142.25

I

356.67

48.52

21

215.53

13.80

8.7

II

167.16

39.38

9.9

141.87

10.75

5.7

III

380.95

64.47

22.5

651.13

58.93

26.3

IV

–

–

–

149.06

34.99

6

V

347.55

64.91

20.5

559.75

79.02

22.6

VI

443.03

91.46

26.1

761.75

83.74

30.7
Immunocytochemistry for Ca-BPs
Staining with Ca-BPs revealed immunoreactive (-ir) neurons in the examined species for all the three antibodies (Figs.
4
,
5
and
6
). Their distribution spanned throughout the cortex with some differences.
×
×
×
In the sheep, PV-ir neurons were mostly present in layers III and V and fewer were generally found in layer II (Fig.
4
a). Most of them were interneurons with various shapes (Fig.
4
a' and 4a'') but few pyramidal neurons were also found, mostly in layer V (Fig.
4
a''' and 4a''''). The chimpanzees showed a distribution of PV-ir neurons more clustered in layer III, followed by layers V, VI, II and IV (Fig.
4
b). Only interneurons were marked (Figs.
4
b' – 4b''').
In the sheep, CR-ir neurons were mainly present in layer V and to a lesser extent in layers III and VI (Fig.
5
a). They were mostly interneurons (Fig.
5
a′ – a′′′′); however, pyramidal neurons were also found both in layer III (Fig.
5
a') and V (5a′′′, 5a′′′′). In the chimpanzee, CR-ir neurons were seemingly more present in layer II and less in layers I, III, V and VI (Fig.
5
b). They were mostly interneurons (Figs.
5
b′, 5b′′) but also pyramidal neurons were found (Fig.
5
b′′′).
In the sheep, CB-ir neurons were evenly distributed along the cortex, with relatively more neurons found in layer VI (Fig.
6
a). Many of them were interneurons in layers II (Fig.
6
a′), III (Fig.
6
a′′), V (Fig.
6
a"') and VI. However, pyramidal neurons were mostly found in layer VI (Fig.
6
a''''). In the chimpanzee, CB-ir neurons were found mainly in layer III but could also be seen in other layers (Fig.
6
b). We observed interneurons in layers II (Fig.
6
b′), layer III (Fig.
6
b′), layer IV (6b′′′) and layer V (Fig.
6
b). Pyramidal neurons were present only in layer III (Fig.
6
b′′).
DTI
A whole tractographic image showing tracts from the OFC is in Fig.
7
.
×
Sheep
Tractography showed connections between the OFC and several areas. Most important and relevant were ipsilateral connections with the visual areas following the inferior fronto-occipital fasciculus (ifof) in which we consistently found a marked asymmetry between the two hemispheres. Very few fibers running to acoustic areas were also present (Fig.
8
). Connections included areas related to the caudate nucleus, the fornix and the hippocampus (Fig.
9
a), the nucleus medialis dorsalis of the thalamus (MD) (Fig.
9
b), the piriform cortex and the claustrum (Fig.
9
b). Finally, other connections were reciprocal through the anterior corpus callosum (acc, Fig.
9
b) and corticofugal: they passed through to the ventral striatum, lateral hypothalamus, divided in periaqueductal gray, red nucleus and substantia nigra to then reach the spinal cord (Fig.
9
c).
×
×
Human
Discussion
In this study we compared the OFC of the sheep with the human corresponding areas using tractography, and the cytoarchitecture and neurochemistry of the OFC cortical columns with those of the chimpanzee. The human OFC is deemed to be the location of higher brain functions (Tranel et al.
2003
) and the connections associated with the topographical analogue area in the sheep could suggest similar functions. Cortical tissues of the chimpanzees are no equivalent substitute for the human, but the organization of its six-layered column of a great ape may represent an acceptable model for a comparison with the sheep. Furthermore, the cortical columns of the sheep and chimpanzees employed in the current study underwent similar processing phases and manipulations.
DTI is a non-invasive technique which is used to show the connectivity of the brain white matter (Jeurissen et al.
2019
). Although the FA and other parameters might change in
ex-vivo
tissues, several works have shown this technique gives valuable results on fixed brains, as long as these have been perfused
in-vivo
or otherwise fixed through immersion within a few hours after death. In addition, a fixed brain would hypothetically allow an unlimited acquisition time, increased
b
value, increased number of directions, thus achieving what cannot be done in living tissue (D'Arceuil and de Crespigny
2007
; Rane and Duong,
2011
; Wang et al.
2018
). Historically, Golgi staining and anterograde and retrograde tracing were the first procedures used to study the connections in the nervous system (Rose and Woosley 1948; Dinopoulos et al.
1985
). However, DTI is more advantageously applicable in larger brains, where tracing is more difficult to perform and extremely time consuming. Inherently limited, the current anatomical value of DTI has been extensively discussed (Schilling et al.
2020
) and caution is warranted in the interpretation of the tracts.
Cytoarchitecture and connections
The lack of layer IV and the diverse distribution of CaBPs might imply a different integrative architecture in the minicolumn of the OFC and potentially more broadly another organization of neuronal circuits in sheep compared to humans.
Based on the data files acquired from the HCP, we compared our results with the literature. The analyzed DTI lacked specific tracts and connections to some regions, but we did not find any "extra" tract previously undescribed.
To summarize, while there are extensive data on OFC in primates, more concerning tracing than DTI, little is known about sheep and other artiodactyls. Given the lack of existing studies on neurofiber tracing in sheep, we could not establish accurate correspondence between the two species. However, our digital results and homologies established from literature data in this animal suggested some degree of similarity compared to the human brain. Further tracing studies could be carried out, dividing parts of the MD nucleus of the thalamus to establish precise areas.
Functional considerations
Acknowledgements
The authors thank Dr. Giovanni Caporale and Dr. Giuseppe Palmisano for their technical help.
Declarations
Conflict of interest
The authors declare no competing interests.
Open Access
This article is licensed under a Creative Commons Attribution 4.0 International License, which permits use, sharing, adaptation, distribution and reproduction in any medium or format, as long as you give appropriate credit to the original author(s) and the source, provide a link to the Creative Commons licence, and indicate if changes were made. The images or other third party material in this article are included in the article's Creative Commons licence, unless indicated otherwise in a credit line to the material. If material is not included in the article's Creative Commons licence and your intended use is not permitted by statutory regulation or exceeds the permitted use, you will need to obtain permission directly from the copyright holder. To view a copy of this licence, visit
http://​creativecommons.​org/​licenses/​by/​4.​0/​
.
Publisher's Note
Springer Nature remains neutral with regard to jurisdictional claims in published maps and institutional affiliations.