27.07.2017 | Scientifc Contribution | Ausgabe 1/2018 Open Access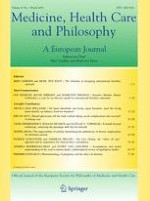 The particularity of dignity: relational engagement in care at the end of life
Zeitschrift:
Autoren:

Jeannette Pols, Bernike Pasveer, Dick Willems
Abstract
This paper articulates dignity as relational engagement in concrete care situations. Dignity is often understood as an abstract principle that represents inherent worth of all human beings. In actual care practices, this principle has to be substantiated in order to gain meaning and inform care activities. We describe three exemplary substantiations of the principle of dignity in care: as a state or characteristic of a situation; as a way to differentiate between socio-cultural positions; or as personal meaning. We continue our analysis by presenting cases on dignity in care related to us in focus groups with medical professionals. Our empirical ethical lens is in this paper is to analyse, not the
meaning
of dignity, but the way in which it emerges in practices where it is pursued, within relationships between people, technologies, places, regulations, and the values cherished by or embedded in them. We show that professional caregivers recognize in the dignity of the person they care for their own dignity; giving up on the one implies no less than giving up on the other. This 'mirrored experience' of dignity expresses itself in professional's engagement with the situation. The value of this engagement, we argue, lies not primarily in
realizing
the particular
content
of the values at stake. We point to the importance of engagement
itself
, even if the values engaged with cannot be realized to the full, and even if competing versions of dignity are at stake simultaneously. In this way the caregivers provide us with interesting examples of moral actorship in situations of conflicting values.